The Symbolistic Nature of Daisies and Sweet Peas as April Birth Flowers
08.06.2021
views 2707
Introduction
Sweet Peas, Lathyrus odoratus, and daisies of various species of the family Asteraceae are common annual flowering plants, or angiosperms, which are the most diversified group of land plantae. They struggled to strive as species for years because they would not survive in water. However, eventually, these plants became widespread, with over 300,000 known species, nearly 150 million years ago. Now, these two distinct genera are deemed the April birth flowers.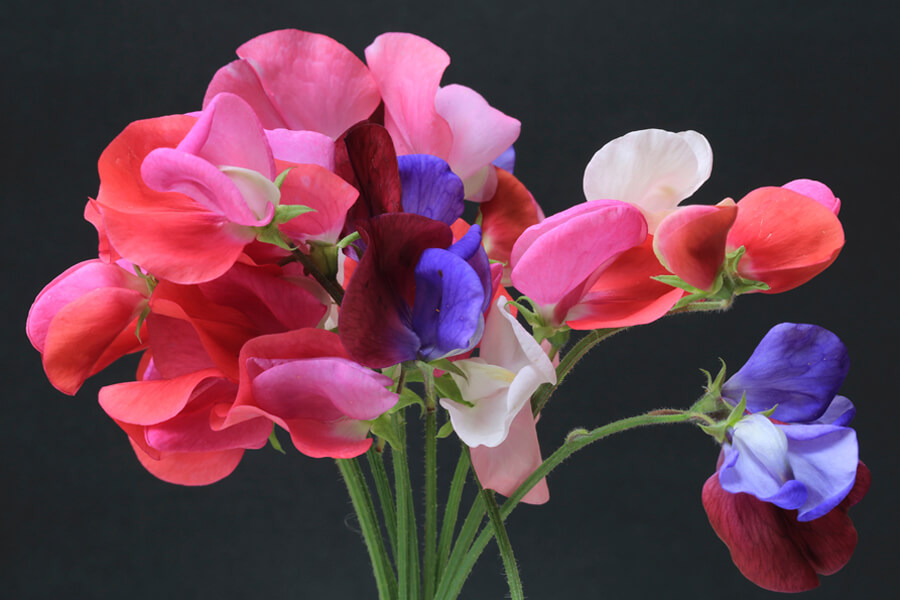 Symbolistic Aspect
In mythology, the daisy is the flower of the goddess of love and fertility, and has great significance regarding motherhood and new beginnings. Michaelmas daisies, or Aster amellus, are ideal for blissful goodbyes and farewells. An English daisy indicates the love between a mother and her child, and a Gerber daisy, Gerbera sp., is the epitome of cheerfulness, integrity, and humility. Moreover, as the symbolic flower of those born in April, it is perfect as a lighthearted centerpiece and should be cherished during its ecological peak – springtime.
In addition, when sorted by colour, each daisy maintains a deeper meaning. Pink daisies are a symbol of gentleness, love, and romance – ideal for a woman of gentle femininity. Red daisies represent passion and romance too. The recipient of this flower may be unaware of their beauty, or the person giving it to them may subconsciously be in love with them. White daisies carry faithfulness, purity, open-mindedness, and innocence. They represent the feeling you get when you hear a child cheerfully say "Oopsie-daisies!" – the sort of heart-gripping warmth that cannot be replicated. They are the better gift for a friend or loved one who is welcoming a new child. Yellow daisies represent friendship, happiness, and optimism. They can be offered to someone you appreciate, as these daisies represent the commitment and merriment that you will experience together throughout your venture in life. These can also be offered to a person who may need some perspective and hope, like someone who has a valuable interview coming up soon. It will brighten up their day and engulf them with the confidence to conquer their tasks.
Altogether, sweet peas symbolize simplicity and blissful pleasure. Pink sweet peas express youth, delicacy, and joy, and they are often paired with white sweet peas as wedding bouquets. White sweet peas radiate gratitude, innocence, purity, along with utter calmness. In contrast, Red sweet peas are a powerful example of desire, passion, and unhindered love. Finally, orange sweet peas flood your spirit with excitement and enthusiasm when you need them the most.
Biological Approach
Have you ever wondered why these flowers are cultivated once they are grown? Daisies are considered leaf vegetables. If you are ever lost in the woods, daisies could save your life by restoring vital nutrients in the body. The leaves can be used for salads, while buds and petals add flavor to soups, and all three can be used to produce herbal tea. Also, daisies were once used as a treatment for many diseases like stomach ulcers or eye problems, and they are still used today as herbal medicine treatment for healing the digestive system, managing painful menstruation, cystitis, and other reproductive issues. In addition, daisies have anti-inflammatory properties, so they help manage the symptoms of viruses that affect the breathing pathway and obstruct breathing (i.e., common cold, bronchitis).
On the other hand, Sweet Peas are not edible, as there is evidence that their 20+ seeds per plant are fatally toxic to humans and severely poisonous to animals. For this reason, they are mainly cultivated for their bold and captivating color, and their intense fragrance that has the ability to take you back in time.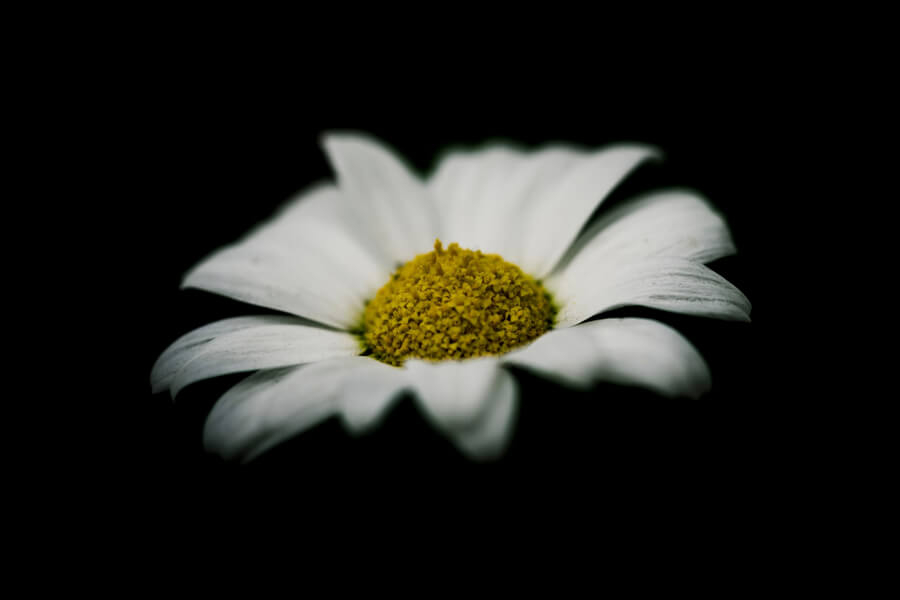 Uncover Them Yourself!
Sweet peas are native to the Mediterranean, including southern Italy, the Aegean Island, Sicily, Cyprus. Whereas, daisies are native to central and northern Europe, as well as Western Asia. There are specific characteristics and features to look for in particular species of plants to classify them when exploring on ecological ventures. Sweet peas, or Lathyrus odoratus, are climbing vine plants made up of 10-15 flowers per vine. A red sweet pea with crimson tones may resemble a poppy, which symbolizes loyalty and remembrance, as they bloom in memory of heroic soldiers. Daisies are nicknamed 'Day's Eye' due to their appearance. These are important traits that will help you find your April birth flower.
April Babies: Celebrity Edition
William Shakespeare: This renowned writer was born in April 1564, and he died on April 23rd, 1616. He and his wife, Anne Hathaway, had twins in 1585 when Shakespeare was merely 19 years old. White daisies are commonly given to parents welcoming twins.
Emma Watson: The Harry Potter actress was born in Paris, France, in April 1990. She is an impactful feminist who advocates for the empowerment of men and women to reach inequality together. Watson is sought after for not only her talent, but her compassion, sweetness, and strength. As someone who emanates passion and desire, Emma Watson must definitely have accepted a red sweet pea or two in her early life.
Leonardo da Vinci: The Italian creator of the Mona Lisa painting was born in April 1452, in Italy. He was a jack of all trades, becoming an engineer, scientist, philosopher, painter, sculptor, and an architect within his short 67 years alive. Throughout his career, he consistently created timeless portraits and portrayed his knowledge of anatomy, astronomy, paleontology, and ecology through breathtaking drawings. One century after another, he is praised and admired all around the world. For his admiration, da Vinci ought to have bundles of Purple sweet peas.
John Cena: Professional wrestler and actor, John Cena, was born on April 23rd, 1977, in Massachusetts, U.S. He left home with merely $50, worked for minimum wage for years, and eventually became homeless. One day, a man approached John Cena and suggested he take on the sport of wrestling. He was noticed by WWE (World Wrestling Entertainment) executives in 2001 and won the WWE championships within 3 years of signing a professional wrestling contract. The encouragement and enthusiasm (represented by orange sweet peas) others displayed concerning Cena's potential must have played a key role in his success. Earlier on, upon being scouted for wrestling, daisies were better suited as a present, being as they symbolize new beginnings.
Chris Kyle: Navy SEAL Veteran, Chris Kyle, nicknamed "The Legend", was a talented sniper who was awarded countless commendations for being an integral part of bringing hundreds of allied men home safely from each of his four tours in Iraq. He was murdered on a gun range, by a fellow veteran who suffered from post-traumatic stress disorder (PTSD), whom he was keenly trying to help. White sweet peas are perfect to honor soldiers, as they represent gratitude and calmness.
Conclusion
To conclude, whether you are giving away these birth flowers for a birthday, a farewell gift, or a token of your appreciation, daisies and sweet peas express bliss, happiness, and admiration.

Were you born in April? Which birth flower arrangement would you choose to embody you on your birthday? Whichever you choose – take good care of these treasured florae.