Birthday wishes for daughter
18.02.2021
views 37594
Do you remember the day you first knew you were going to be a parent? All this extraordinarily exciting period in anticipation of a miracle: a new life that you will bring into this world. Do you remember the happiest day ever, when you first saw your daughter and took her in your arms for the first time? Both of you were full of excitement and happiness, of beautiful hopes and aspirations!
Now your lovely daughter is a year older, and what a joy to see her become a beautiful girl, richly endowed with intelligence, kindness and talents. But her birthday is your celebration too! On this special day, share with her memories of her early childhood, like funny and interesting stories about her and your family. Remind her what she was fond of as a toddler and, if possible, show her first drawings and crafts. And when the time comes to blow out the candles and say the words of congratulations, use our happy birthday wishes for daughter to make this special moment heartfelt and unforgettable.
Daughter birthday wishes
Daughters are the treasuresof our hearts that we love more than anything in the world.
But how difficult it is to put into words our immense pride, love, tenderness and admiration. How difficult it is to convey our hopes for their bright future and happiness! Keeping that in mind, we've decided to help you, and make a list of beautiful and heartwarming happy birthday wishes for daughter.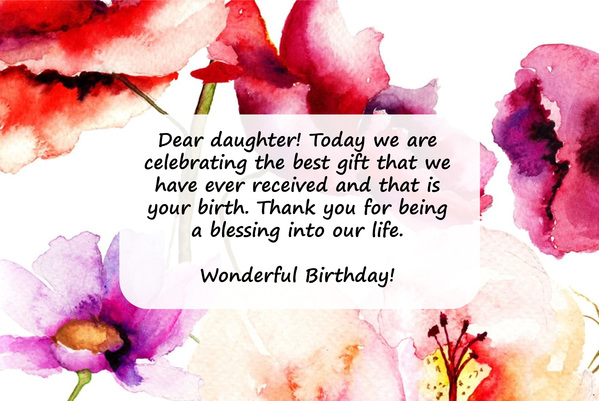 Sun shines bright, but your beautiful smile shines brighter. I couldn't even imagine that someone like me someday will have daughter this beautiful. I'm proud of you so much and admire everything you do. Happy birthday, baby!
---
If I could search all the little girls in the whole wide world, I would still choose you as my daughter every single time! On your birthday, I am wishing the one and only YOU a birthday just as special and unique as you are!
---
Today is a very special day because it is the day when I first saw my angel. Happy birthday to my lovely daughter! No matter how old you are, you will always be my little girl. You are the most beautiful gift anyone has ever been given.
---
It's amazing how time flies. You are my daughter and my best friend too. It is a pleasure to be your mom. You have become an amazing person. I love you more than words can express. I hope you get spoiled and get to eat lots of birthday cake.
---
Dear daughter, another year has passed and we are happy to see you grow even more beautiful and wiser each year. Our baby, our little girl, our sweet daughter, we love you. Happy Birthday!
---
To our beloved daughter, you have always made us very proud and for that, we are forever grateful. Best Birthday to you!
---
Happy birthday to you, our little angel! Our wish is for you to love life and to never cease dreaming. May you always be surrounded with beauty and happiness!
---
As parents, all we want is for you to grow and become a better person each day. May you touch the life of so many people and be an inspiration and a blessing to them, the way you are to us. Best bday to the most wonderful daughter in the world!
---
From little steps when you were young, I wish and believe that you could take that big step, a leap, which would help you achieve your dreams.
---
I really don't know what great things I have done in the past life to deserve such a wonderful daughter like you. Whatever it was, it must have been so incredible for I was given the best daughter in the world. Wonderful birthday our little darling!
---
In our heart, you will forever be our little girl, our beautiful princess. In our eyes, you are a loving and caring woman that truly inspires us and a lot of people around you. We love you and may you have a wonderful birthday celebration.
---
I am not only grateful that you are my daughter. I am grateful for the love, friendship, kindness and support you have given me. I will surely give it all back to you. May you have a wonderful birthday, sweetheart!
---
If I had all the time in the world to write how grateful I am to have you in my life, a hundred pages of book will certainly not be enough. I just want you to know that you are the reason why I breathe each day and the reason why this life is meaningful to me. Wonderful Birthday my dear daughter!
---
Our darling little girl, we are so grateful that you came along. You have certainly made our world a million times richer than you could ever imagine. We love you, happy bday!
Birthday quotes for daughter
Perhaps only parents can understand how difficult it is to express all those wonderful feelings they experienced in relation to their beloved daughter.
As a parent's heart admires their beauty, kindness, intelligence, charm and success in life. How proud parents are of their every victory and every achievement. Our list of daughter birthday quotes will help you to convey your unconditional love towards her and express all these beautiful emotions!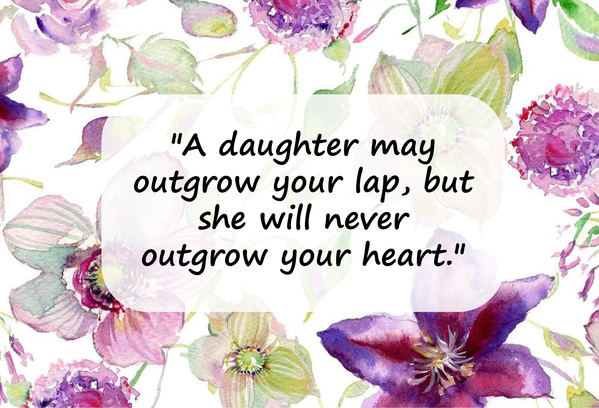 My lovely daughter, you have grown up to be a fine young woman! Spread your magical energy everywhere and may your days be filled with love! Happy birthday!
---
The day you came into this world will forever be my favorite day ever! Happy birthday, darling, you will forever be my little girl!
---
You give me hope in the lifetime of uncertainty. Your willpower and inner beauty know no limits. I love you forever, my girl! Happy birthday!
---
Happy birthday to the baby girl who made me the proudest parent on Earth! May your journey through life be smooth and filled with exciting adventures! I love you!
---
It is safe to say that you, my daughter, have completely changed my life and taught me to love eternally! On this day we celebrate your cheerful spirit! Happy B-Day!
---
May this year bring you plenty of reasons to smile, and endless opportunities to make you happier! My girl, you were born to be a star! Happy birthday!
---
There will never be one like you! You are my star child, my inspiration, and my life's thrive! Nothing truly compares to the love you have for your daughter! Happy birthday, baby, you deserve the best!
---
Your birthday is up, my beautiful daughter, and all I cannot find words to express how much you have me inspired me as a parent, and as a person! May your light continue to shine forever! Happy B-day!
---
To my lovely daughter, you mean the world to me. I couldn't have asked for a better girl to call my daughter. Enjoy your birthday, love.
---
A parent can only wish his daughter a lifetime of happiness, and a handful of exhilarating adventures ahead! Happy birthday, my princess, I love you so much!
---
In the world of copycats, be yourself. In a lifetime of fails, find a silver lining. You are a force to be reckoned with, and I am beyond proud to call you my daughter! Happy birthday, sweetie!
---
I have spent so many wonderful years watching you grow up. Look at you now… A strong, lovely, kind woman with independence. I'm so proud to say you're mine. Happy birthday!
Birthday wishes for daughter in law
When you raise your son, you hardly think that one day he may marry. However, when he becomes an adult, you wish him the best wife ever: kind, faithful, caring, smart and beautiful.
A woman, who will become a member of your family and make it only stronger and happier. When such a wonderful woman becomes your daughter-in-law, support her and show her that you love her and appreciate her as a good wife for your son and a caring mother for your grandchildren. We'll be happy to help you to find the right words in our list of birthday quotes for daughter in law.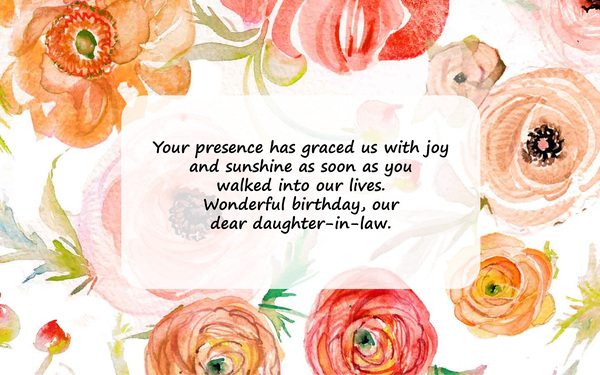 Our son has the tendency to stray with his choices, but you are definitely one of the right and most beautiful decisions he has ever done. It is such a great package with having you in the family. Happy bday our sweet daughter-in-law.
Marrying you is not only a gift that has our son has received, having you as our daughter-in-law is such a joy and blessing in our lives. Wonderful birthday!
You are like our long lost the daughter. The word 'in-law' should be shunned aside because the love you have given us is like how a daughter loves her parents. Best birthday, sweetie.
No other way to say it, that it was a dream come true… when as a daughter-in-law, the family got you. A friendship unlike any other, from the very start… a bond that stems from the deepest, corner or my heart. Happy birthday!
My son always had a sweet tooth. I'm not surprised he chose someone as sweet as you! Happy birthday to our dearest daughter-in-law.
---
I've sacrificed it all, just so that my son could have a life he deserves. And I wouldn't have it any other way, because everything led him to give his heart to you! Happy birthday.
---
If you and I competed to see who can keep a mother-in-law happier, you would win hands down. Happy birthday and thank you for all that you've done for me!
---
My son is a lucky person to have you as a wife, but we are luckier to have you as our daughter-in-law. Happy birthday!
---
The most heartfelt greetings on your special day, dear! We are endlessly grateful, because you are taking such a wonderful care of our son and grandchildren. Enjoy your day, let it bring lots of unforgettable moments!
---
We are so grateful for all the joy that you have brought into our lives, giving us adorable grandchildren and being such a caring and loving wife. Best wishes on your special day, dear daughter-in-law!
---
I feel so happy that my son is sharing life with a woman of warmth, wisdom, sensuality and great joy. Happy birthday to you, sweetheart!
---
Thinking of you and the good times that we have spent make us smile on your special day! Happy birthday, dear daughter-in-law!
---
You are one of the greatest gifts that our family has ever received from Life.
---
You're a faithful wife, a loving mother and a shining star. We hope that all your truest wishes come true!
Granddaughter birthday wishes
Perhaps no one can love as much as grandmothers love their granddaughters.
Grandmother enjoys even such little things that parents may not even notice. And how generous grandmother spoil grandchildren! For many of us, my grandmother was the most beloved adult. On such a special day as your granddaughter's birthday, show her all your unconditional love and care with a little help of our precious granddaughter birthday wishes.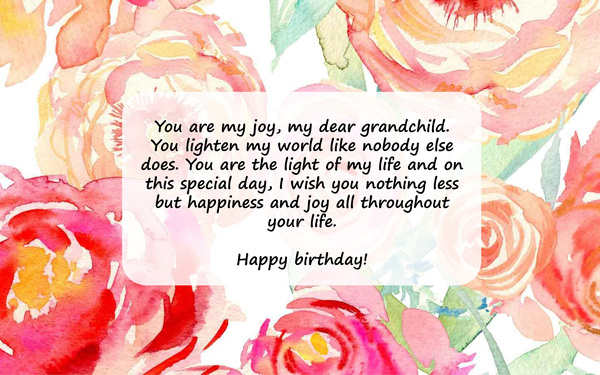 Granddaughter, thank you for always making me smile. I love you, happy birthday!
---
Your name is synonymous to the word sweetness… happy birthday to you, my darling, little princess!
---
You are my joy, my dear grandchild.You lighten my world like nobody else does.When you smile at me I promise to smile even more brightly.You are the light of my life and on this special day, I wish you nothing less but happiness and joy all throughout your life.Happy birthday!
---
My grandchild, you have made your family and friends proud by working very hard to reach this day.May all your achievements bring you happiness and may you be successful in everything that you do. Happy birthday dear!
---
My grandchild, It has been a joy since you were born,to watch you grow each and every day,to share in all of your accomplishments and see the love you show. I am wrapping my gift with these birthday wishes for my sweetest grandchild!
---
I want you my grandchild to live life to the fullest, love yourself and understand how much you are worth to yourself, and to the rest world. I want you to be an optimist and know everything you do in your life has consequences for the whole world and especially to those you love and who love you.Happy birthday my grandchild.
---
You are my granddaughter and my best friend in disguise.Having you in my life takes my life to a new level because my bond with you bond is not just the ordinary.It is delightful and magical.Happy birthday grandchild,I love you so much.
---
You may have outgrown my laps, but in my eyes you'd always be my adorable little angel whom I shall love until the day my heart decides to stop beating.
---
My dearest granddaughter, thanks for giving me another year of being a wonderful friend to me. On your birthday, I wish you everlasting happiness and all the good fortune this universe has to offer. I shall never stop loving you, my dear.
---
On this great day that marks the anniversary of your arrival into this world, may you never forget that you are beautiful both internally and externally and I love you with all my heart. Happy birthday, sweetheart.
---
Dearest granddaughter, we just want to thank you from the bottom of our hearts for bringing happiness and sunshine into our world. We love you so much. Happy birthday.
---
Dear granddaughter, did you know that I love you more than my walking stick? And everyone who knows me knows how much I cherish my stick. Happy birthday!
No matter how old she turns, for you she will always be a little princess, who deserves the best. Make her a great surprise by sending a wonderful bouquet of birthday flowers and a fluffy teddy bear, which is so nice to hug! Treat her with sweet chocolates and decorate her special day with bright balloons. We promise — she will never forget such a generous and fantastic birthday present!