Birthday wishes for a niece
17.02.2021
views 12077
Your niece's birthday is a very special day, full of fun and joy. Of course, you're very proud of your sweet and precious girl, who's definitely the best niece in the whole world! We all know that relationship between a niece and her aunt is a special one, because aunt is a parent, sister, friend, teacher and a partner in crime — all rolled into one. However, aunt has a wonderful advantage over her parents: aunt does not have to punish her niece or be strict, she just always stays cool. Maybe sometimes such a good relationship may even cause parents a little jealous. But that is totally okay, because every kid or teen should have an adult family member to spoil her and give wise advises about everything without causing even more stress.
For such a smart aunt like you we've prepared a huge list of heartfelt and fun niece birthday wishes. Choose ones that can relate well to you niece and mix them together to create your own special birthday wish as well! You can also print the quotes with the tender and colorful flower wrenches and use it as a birthday card. Also feel free to share one of this with her on the social network. As you can see below, we have categorized all the wishes into four different groups so you can find the perfect wish much more easily. If you are good friends who loves to manage different mischiefs, choose funny wishes. For those who wants to be more like an older sister or friend, inspirational quotes will be just perfect. Want to speak straight from your heart? Pick one of our birthday wishes!
Funny birthday wishes for a niece
What's the coolest thing about aunt? She believes in unicorns too! Being an auntie is a pretty cool and fun thing also. You can be childish and play the fool together without any sense of guilt (in the end, you don't have to be a parent). So go ahead, and make your beloved girl giggle and laugh with our hilarious birthday wishes for a special niece.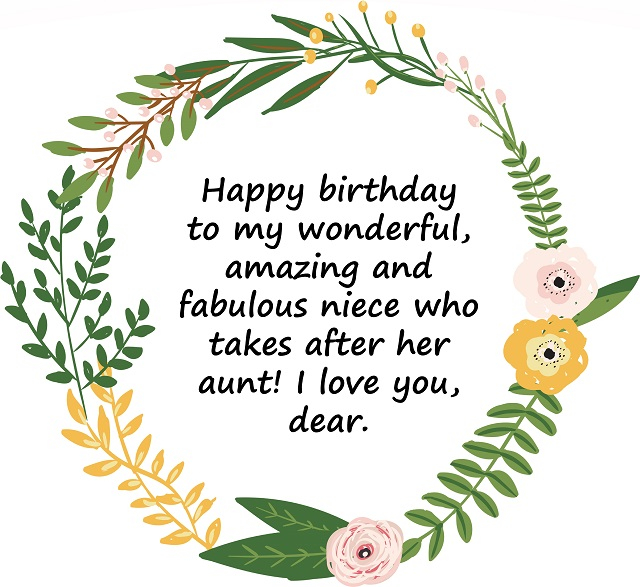 Aren't you lucky you have such a beautiful auntie celebrating your birthday with you? Happy birthday!
---
I didn't believe that my little sister would be able to do anything great in her life until she gave birth to you, my lovely niece. Wonderful birthday, sweetie.
---
I'm sure that your parents have given you a fantastic birthday party, so here's some gifts from your auntie!
---
Happy birthday my little niece, may you grow up as sweet and loving as you are now!
---
The most awesome niece deserves nothing less than the best birthday celebration. Happy birthday from your aunt!
---
All nieces are brilliant and beautiful… and obviously take after their aunt. Happy birthday my dear niece!
---
My niece, my little princess! You totally rule my heart, and in the story of my life you're totally the best part!
---
Happy birthday to my wonderful, amazing and fabulous niece who takes after her aunt! I love you, dear.
---
Happy birthday to my niece, my little beloved partner in crime! I love you xox
---
The older you get, the older that I feel because I remember when you were born.
---
Nieces and nephews are all the fun of children without all the trouble. You've been a lot of fun. I hope your birthday is a lot of fun for you.
---
The great thing about aunts and uncles is that they can buy you the toys that your parents won't.
---
Your parents may love you a lot, but aunts and uncles are better at spoiling the birthday girl. Happy birthday, from your favorite aunt!
---
It's really fun to be the aunt of such a neat kid like you.
---
You are such a cool kid, you make your uncle proud to be the brother of your parent.
---
Just so you know, I do know how difficult it is to live with your mom/dad as a teenager. If you ever need to talk, I'm here for you. I know what you're going through.
---
It's scary for me to think about how much older you've become, because that means I've become that much older since you were born.
Inspirational birthday wishes for a niece
Your beautiful birthday girl is a year older now, and it's time to inspire her to conquer new heights and new achievements. Share this beautiful inspirational thoughts and quotes with her to make her feel special!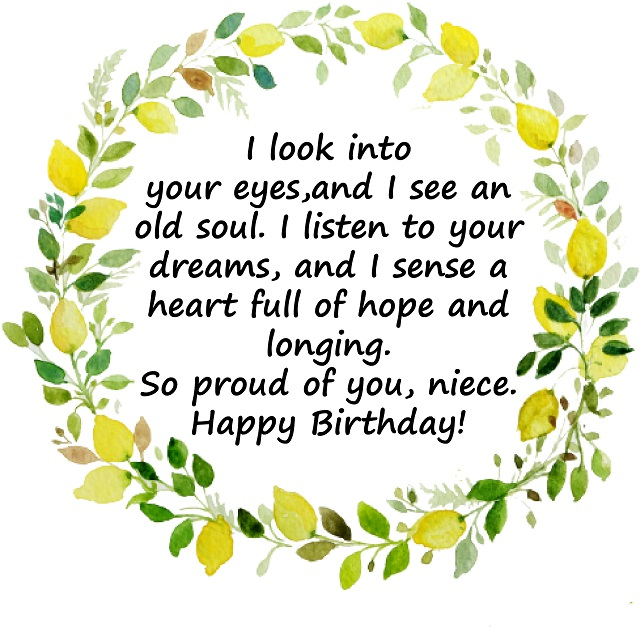 Forget the past. Don't fret about the future. Live in the present and enjoy the little things. Happy Birthday my beautiful niece! I wish you a lifetime of happiness, laughter, and love!
---
Stay the same. No more, no less. Because nothing can make me like you less, my niece. Happy Birthday!
---
I look into your eyes, and I see an old soul. I listen to your dreams, and I sense a heart full of hope and longing. I stand in awe at the young lady you are becoming. So proud of you, niece. Happy Birthday!
---
Life may not always be smooth but remember that we are all here to give you the support that you need. Besides, you have given your life to us that is why we will not regret sharing our own to you. Happy birthday!
---
In your eyes I see the promise of a brighter tomorrow, a better world for all and the chance for peace. Tall order, I know, but you are brave and strong and smart. Happy Birthday!
---
You are a fearless girl, with extraordinary ability to tackle difference situations in life. You make me proud. Happy Birthday, niece!
---
I'm so thankful for that one screaming baby who was born on this day some years ago, because that baby grew up to be one of the best and most awesome people on this earth! Happy birthday and have an awesome time on your special day.
---
You have something special in you – something that makes me proud of you; something that makes meglad to think that I am your aunt; and something that makes me feel lucky to think that we have you in our family. Happy Birthday, niece!
---
Life may seem so down lately but remember that there is always a reason to celebrate this day. You are blessed with a life that is worth living!
---
You know what, this day is always marked in my calendar — not because it's your birthday — but because I am so thankful that on this day of every year, a very important person in my life is blessed with another year to live. Happy birthday!
---
This is finest time to rest for a while and look for the things around you, realize how lucky you are that you still reach this time of your life. May God's graces be with you. Happy Birthday!
---
Usually, a birthday is the day for the celebrant to recount all the things that they are grateful for and I know you have a lot of reasons to be grateful for in life. Me? I actually just have one — YOU. Happy birthday, my dearest niece! Here's to more birthdays ahead.
Birthday quotes for a niece
Birthday quotes for niece from aunt should be lovely enough, to convey the love you have for her. So when you want to write a something special for her, don't struggle and use our lovely happy birthday niece quotes.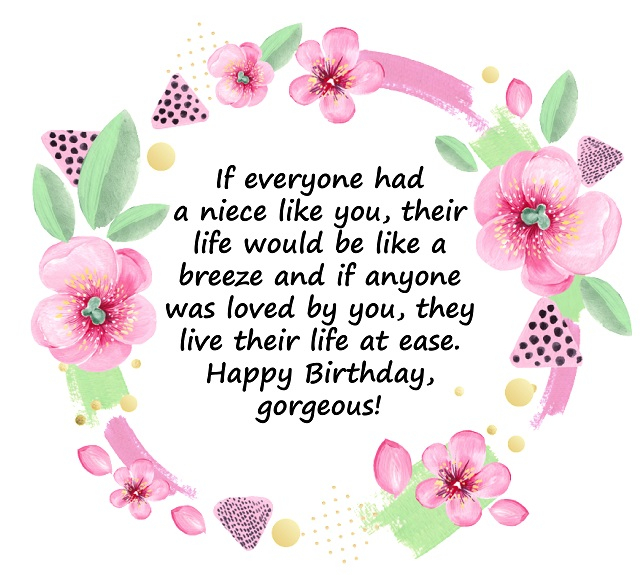 On the day you were born, my life has got its sense. I love you to the moon and back, darling, and wish you a wonderful birthday!
---
Being a mom is a wonderful experience, but being an aunt is wild and crazy times!
---
Dearest niece, whenever you are upset or happy, lonely or surrounded by friends, know that my hugs are always open to you. I love you, happy birthday!
---
Even Google can't find words, which will explain my love for you. Happy Birthday, dearest niece.
---
On this birthday, we will do things your parents didn't allow you to do. I will pamper my favorite niece. With love, your auntie.
---
A niece like you is special to her aunts and uncles not because she's a family, but because she's extremely lovely. Happy birthday, darling! We wish you all the best in this world.
---
If everyone had a niece like you, their life would be like a breeze and if anyone was loved by you, they live their life at ease. Happy Birthday, gorgeous!
---
Happy birthday, my little baby girl. I love your laughter, your sincere smile and your faith in the good. Always dream big and I will be near to support you.
---
Have a stunning birthday, darling! Always achieve your dreams and never be afraid of the failures because your uncle always gets your back.
---
You have a special place in my heart and I can't be grateful enough to God for having such a wonderful niece. Happy birthday!
Birthday wishes for a niece
Birthday is a special occasion for everyone, especially if it a birthday of your beloved niece! Make this day memorable for her with our list of niece birthday wishes (and a gorgeous gift).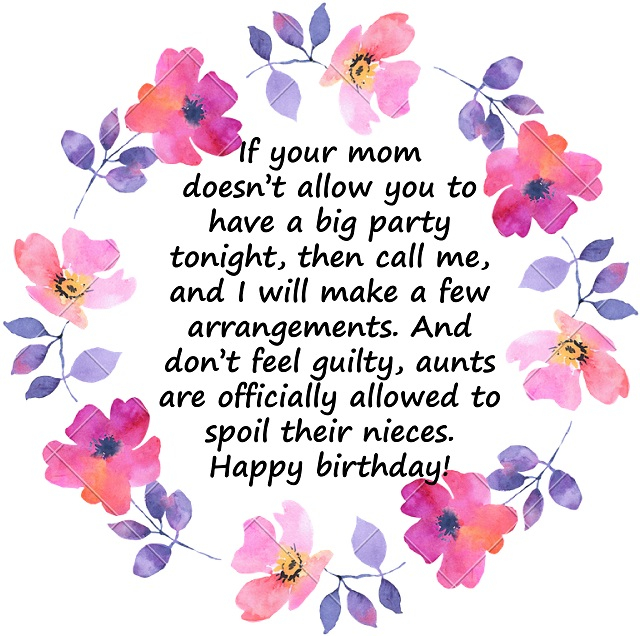 Whenever you are down or else you feel bad because your mom/dad has grounded you or even the teacher has punished you for something, never feel that you are alone, your aunt is always available to hug you. Happy birthday.
---
Though it might sound crazy, but it's true that without having a niece like you, my life would have remained incomplete. Wishing you a happy bday from my heart.
---
No one can measure my love for you and it's not even possible for Google or Wikipedia. Wonderful birthday.
---
As your aunt, I've the duty to wish you as the very first person on your most special day. Wishing you a best birthday.
---
I love you my dear. This is not because you are a niece, this is because you are such a wonderful human who truly deserves the most amount of love from anyone. Have a wonderful celebration.
---
The word "Aunt" became very, very special in my life after you were born. Have a wonderful birthday.
---
The relationship between you and me is not about the smiles and laughs. You are such a wonderful niece that my heart wants to fly. Best bday!
---
I thought that I had a lot, but when you were born, for the first time I felt that I really had nothing to claim as mine. You are the most valuable thing in my life.
---
Great things are hard to find. But I'm so lucky that I found the greatest thing of my life without any hard work. Thanks God for gifting me a niece like you. Best birthday.
---
You are an angel who made my life more colorful and amazing. It couldn't be better than this. Have a gorgeous birthday party.
---
If your mom doesn't allow you to have a big party tonight, then call me, and I will make a few arrangements. And don't feel guilty, aunts are officially allowed to spoil their nieces. Happy birthday!
---
As you celebrate your birthday this year I want you to know that you are a special girl. My prayer is that God will grant you health, wealth and happiness all the days of your life. Happy Birthday!
---
Every year on your birthday, I am reminded of how time flies. It feels like only yesterday that I first held you in my arms, and now you have already grown into a beautiful young woman. Happy birthday, sweetheart!
---
A special little fairy once told me a tale about a little niece I have that I love and know well. That special little fairy told me such good things. It's true! She told me about my special niece, and that special niece is you! Happy Birthday!
Who can spoil a girl better, than her favorite auntie? Make such a special day as your beloved niece's birthday really unforgettable with a surprise delivery of amazing gifts! On our catalogue you can find gorgeous birthday bouquets, pretty teddy bears (your niece will absolutely love it!), yummy sweets and chocolates, and bright balloons to complete your gift and set the right birthday mood!