Birthday wishes for wife
17.02.2021
views 18656
Remember your very first meeting, those first tender feelings that appeared between the two of you? First look, first conversation, first date, first touch, first kiss? Remember all those wonderful things, that make you marry her? Bible says: «For where your treasure is, there your heart will be also». Being in a happy marriage with a woman you love from the depth of your heart is a gift from God, and wife is a main reason of this.
Her birthday is a great opportunity to thank her for everything she does for you and your dear family: for all her care and love, cozy home and delicious dinners. Show her how much you appreciate her as a perfect wife and mother, and how lucky you are to have her in your life. Just remember, that women love some affection – and the more the better. So make sure that her special day is truly special by giving her your love, an extra bit of attention, and a heartfelt birthday wishes for wife she deserves. We've prepared for you a list of tender and loving words that will express your endless love, gratitude and appreciation, and will never fade in her memories.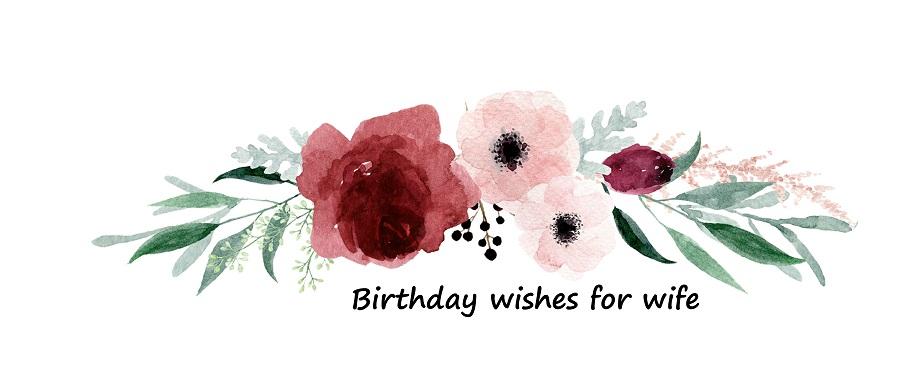 Birthday wishes to a wife
Without a doubt the woman that you love the most deserves the very best on her special day. Best birthday celebration, best gifts, best friends and best birthday wishes for wife. We know how hard it can be to find the right words that can express all your feelings towards her, even though you know her better than anyone else. That's why we've put together this list of birthday wishes to wifw from husband, that will surely melt her heart!
Happy Birthday to my lovely wife and the mother of our children. You make me happy and proud of the things we built together.
---
Some people read books and stories to find the meaning of love. All I have to do is look in your eyes. Happy birthday my beloved wife.
---
The sweetest of birthday cakes could never be as sweet as you are. Happy birthday to the loveliest woman in the world, my wife and my love.
---
Thank you for always believing in me and making me feel like the most important thing in your life. You are definitely the most important in mine.
---
On your birthday, I want to remind you that you are special, not only to me but to all those who are privileged enough to know you for the amazing person you are. People like you are hard to come by, but getting to have a wife like you is indeed a gift.
---
Happy birthday to the woman who still makes my heart beat fast: my wife. May your birthday be filled with a million moments of laughter and love.
---
Happy birthday to my gorgeous wife. Even after all these years, I can't wait for you to blow out all your candles so I can be alone in the dark with you.
---
When we were getting married, I thought that you had never been more beautiful or radiant. I know now I was wrong because today on your birthday you are more gorgeous than ever.
---
I feel very blessed to have such a delightful, caring, and breathtaking wife. I love you so much and hope that your birthday brings about everything you could ever desire. Happy birthday!
---
There is so much to love about a wife as sweet as you: your smile, your eyes, and your soul. There are too many things to count, but know that I love them all. Happy birthday!
---
It's hard to express how much I adore you. There aren't enough words, but I hope that my adoring smile gives you a measure of my love. Happy birthday my wife.
---
On your birthday I want you to know that my best times in life have been with you and my worst times made all the better by your presence. Thank you for always staying by my side.
Wife birthday card messages
One of the ways you can make your beloved wife's birthday even more remarkable is to give her a truly special birthday card message that will showcase your love. Surely, a nice gift is important, but the words you'll say to her are important as well. If you don't know how to express your deep feelings towards her and struggle to capture it in a birthday card, we are here to help! Just choose from our collection of birthday wishes for your wife, and she surely will be impressed!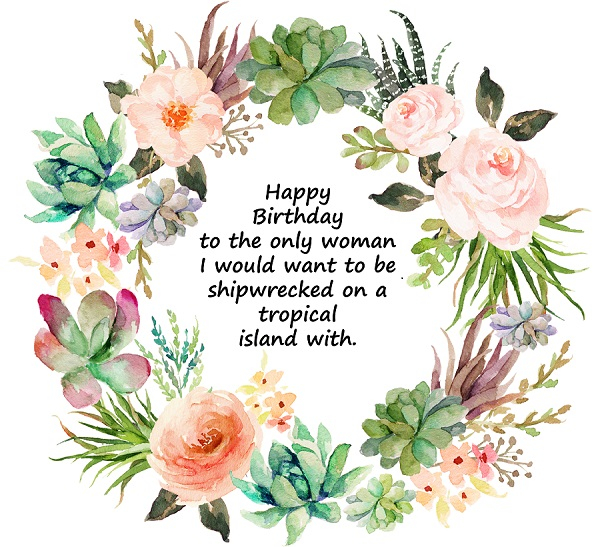 My dear wife, may your birthday be as happy as you have made me. Happy birthday!
---
You are a wonderful mom, a loving wife, and a fantastic human being. Happy birthday to my wife a.k.a. perfection.
---
Happy Birthday to the only woman I would want to be shipwrecked on a tropical island with.
---
Happy Birthday – It's your day for dreams to come true. May your life be filled with love and happiness.
---
Every year with you is better than the last. Thank you for that, sweetheart! Happy Birthday!
---
I know you have a lot of things to do, so I'm going to go ahead and take them off your hands and do them for you. Happy Birthday – I love you!
---
I'll never forget that sparkle in your eye that made me fall in love with you. Happy Birthday my love! You never lost that sparkle.
---
You are kind, amazing, fantastic, beautiful and sexy. I'm so glad that I married you. Happy birthday!
---
It is because of you that my life has become meaningful. Happy birthday, honey!
---
Dear, with each passing year your beauty continues to blossom. Happy birthday, wifey!
---
May for forever stay young, healthy and vibrant. Happy birthday dear!
---
Happy birthday dear wife, this is a golden message from a loving husband to a caring wife.
---
Marrying you is the best decision I have ever made. Love you so much... Happiest Birthday Wifey!
---
My best part of life is you. You are truly an amazing and adorable wife.
---
Happy Birthday to my life who loves me unconditionally. I love you so much more dear.
Birthday quotes for wife
A wife is the most important person in a man's life. She surrounds him with love and care, inspire him, make his home cozy and bare his children. Such a great woman surely deserves a great birthday! Make her special day memorable with the list of wise and touching happy birthday quotes for wife!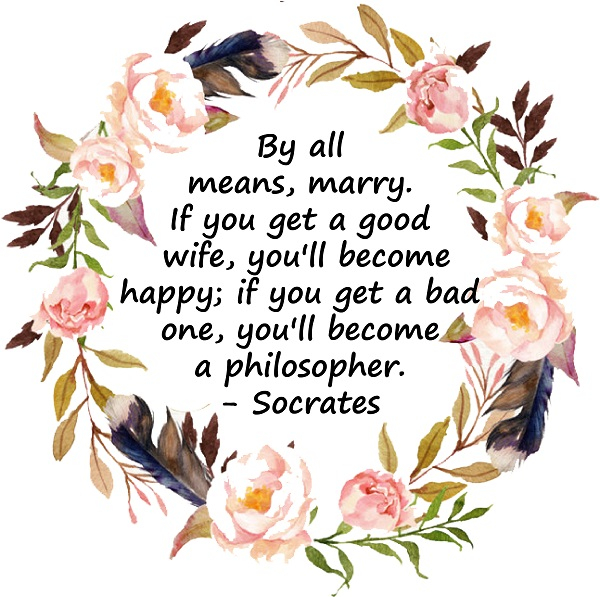 A real man loves his wife, and places his family as the most important thing in life. Nothing has brought me more peace and content in life than simply being a good husband and father. (Frank Abagnale)
---
No man succeeds without a good woman behind him. Wife or mother, if it is both, he is twice blessed indeed. (Godfrey Winn)
---
I was given such a great gift. It's a miracle that never stops amazing me and reminding me to give thanks, every day. Having a wife and daughter gives me a lot more purpose. I was much more selfish before, but now I think about what kind of role model I'll be. I just want to be a better man. (Jake Owen)
---
I love my wife and I know she loves me. We're best friends. We're just lucky to have found each other. It takes a lot of work but I just feel very blessed that I found the right person. It's a very fortunate situation and not everyone has that. (Harry Connick, Jr)
---
By all means, marry. If you get a good wife, you'll become happy; if you get a bad one, you'll become a philosopher. (Socrates)
---
The love of husband and wife, which is creative of new human life, is a marvellously personal sharing in the creative love of God who brings into being the eternal soul that comes to every human being with the gift of human life. (Vincent Nichols)
---
On every birthday, I ask my wife, 'What would you like this year?' and her instant reply is, 'Diamonds! Diamonds! Diamonds!' I'm always living in hope that one day she'll say she just wants me! (Akshay Kumar)
Romantic birthday wishes for wife
Even if you're marry for a decades, there's still a room for a romantic feelings. Your wife's birthday is a perfect day to remind her how much you treasure her.
As you blow the candles on your birthday cake, I want to tell you what a wonderful wife you make. Without you in my life, my heart would have bled. With you, I look forward to a wonderful life ahead. Happy birthday, darling.
---
I know you have a lot of things to do, so I'm taking them off your hands and doing them for you. Happy Birthday – I love you!
---
Very few people meet their soul mates, but I have been fortunate enough to marry this special someone! I hope you have a beautiful birthday. Happy birthday, dear!
---
Congratulations honey! You have circled our Sun again and it's your Birthday! I wish you the best, and a seven-course dinner tonight.
---
Every now and then someone comes into your life and they turn it upside down in a good way, and you are that someone for me! You are my life and I wish you a very happy birthday.
---
I wake up every morning and thank the good Lord for bringing you into my life. Jerry Maguire said it best 'you complete me'. Happy birthday, my beautiful wife. I love you always and forever.
---
My dear, you are the best thing that has ever happened to me. I could not imagine my life any different. Happy bday!
---
On your birthday and all the days after, I promise to make you happier and to help fulfil all your heart's greatest desires. Wonderful bday, dear wife.
---
People would read books about love, indulge themselves with romantic prose and poetry. All I need is to look at you and meaning of love is clearly tangible. Best bday, love.
---
You are all things wonderful, all things meaningful and all things possible. I am blessed to have a perfect wife. Happy bday, dear.
---
If I had not met you, I would have made the gravest mistake of my life. You are the reason I feel so alive and grateful and happy. How do I live without you, honey? Best bday!
---
Nothing can match your sweetness and warmth. Not even the tallest cakes, the most delicious puddings or the most delicious cup of hot chocolate. Best bday, baby.
if you want to see your favorite face lit up with a happy smile, make her birthday even more special with a wonderful and unforgettable gift! Make her feel loved with a gorgeous bouquet of happy birthday flowers for wife, surround her with tenderness with a fluffy teddy bear, show her your sweet love with delicious chocolates and surprise her with a bunch of birthday balloons! We will carefully deliver your gift by hand straight to her door with a free greeting card with the sweetest birthday wishes to wife.