Birthday wishes for sister
17.02.2021
views 4975
Relationships between siblings are one of the closest. You've share everything together: your room, toys, childhood and your parent's love. Even if sometimes you have fights, you know that whatever happens, they are always be there for you and they will stand by your side.
Sister is a very special person indeed. She's your best friend and your partner in crime, and sometimes she can care about you like a mother. But for you she'll always be your lil sis, nice and sweet girl that you love so much. On such a special day like her birthday make her happy with all your love, care, gratitude and appreciation. We've prepared for you over 50 ideas with birthday wishes to sister to choose from, that will impress your dear sibling on such a great day!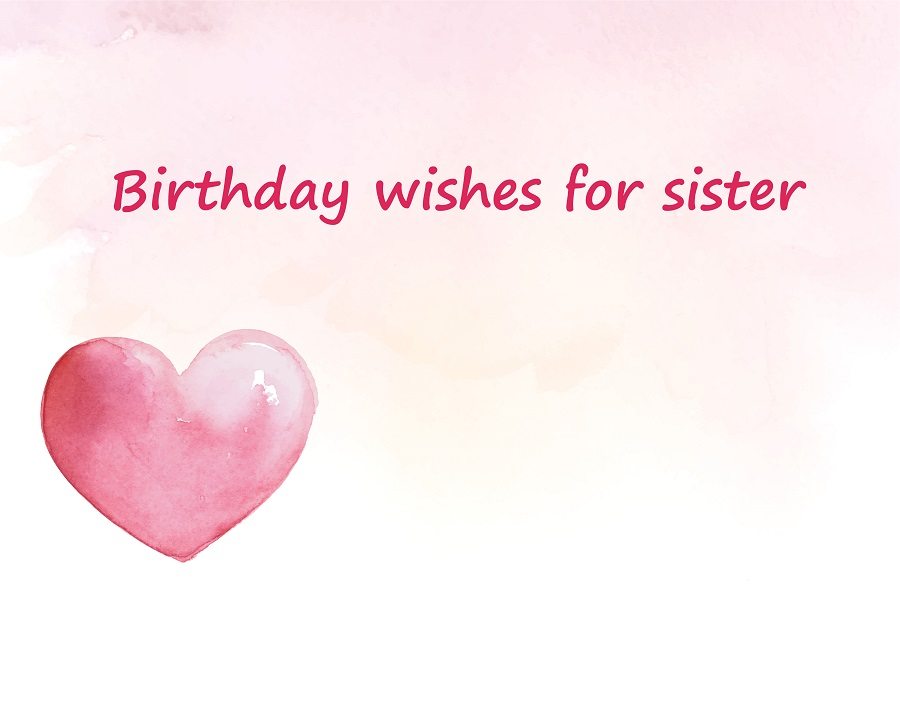 Sister birthday quotes
Relationships between sisters is unlike any other. A sister can be your relative, your close friend or a soulmate that you met through your life. But sisterhood always mean a lifetime friend. If you have an elder sister, you might look to her for guidance, and if you have a younger sister, she might look to you for some inspiration and wisdom. So if you want to make your sister's big day special and make her feel loved, use one of our happy birthday sister quotes!
Having a sister is like having a best friend you can't get rid of. You know whatever you do, they'll still be there. (Amy Li)
---
Girls will be your friends – they'll act like it anyway. But just remember, some come, some go. The ones that stay with you through everything – they're your true best friends. (Marilyn Monroe)
---
We hang out, we help one another, we tell one another our worst fears and biggest secrets, and then just like real sisters, we listen and don't judge. (Adriana Trigiani)
---
Sisters, as you know, also have a unique relationship. This is the person who has known you your entire life, who should love you and stand by you no matter what, and yet it's your sister who knows exactly where to drive the knife to hurt you the most. (Lisa See)
---
How the hell do you sum up your sister in three minutes? She's your twin and your polar opposite. She's your constant companion and your competition. She's your best friend and the biggest bitch in the world. She's everything you wish you could be and everything you wish you weren't. (M. Molly Backes)
Is solace anywhere more comforting than in the arms of a sister. (Alice Walker)
---
Brothers and sisters are as close as hands and feet. (Vietnamese Proverb)
---
A sister can be seen as someone who is both ourselves and very much not ourselves – a special kind of double. (Toni Morrison)
---
…she'll go and fall in love, and there's an end of peace and fun, and cozy times together. (Louisa May Alcott)
---
That's the best thing about little sisters: They spend so much time wishing they were elder sisters that in the end they're far wiser than the elder ones could ever be. (Gemma Gurgess)
---
Children of the same family, the same blood, with the same first associations and habits, have some means of enjoyment in their power, which no subsequent connections can supply. (Jane Austen)
Sister birthday wishes
It's your sister's birthday and it's a perfect time to shower her with love! On this special day, wish your beloved little angel all the best things and show how much you treasure her with warm and sincere words from the depth of your heart. She'll surely appreciate it and she will thank you with a warm and happy smile. With that in mind, we've put together a list of birthday wishes for sister so you can easily make her big day special.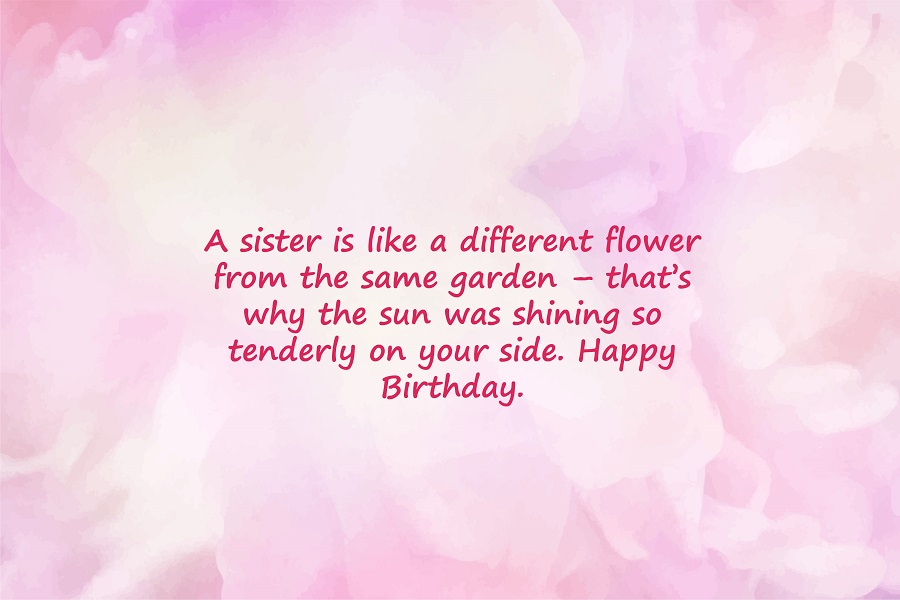 Sister, you are my everything and even more. I feel that I'm definitely one of the luckiest! Happy Birthday.
---
You are my best sister that I've ever had in my life and even in imagination too. Happy Birthday.
---
My sis, I want to say that you are perfect in so many ways and perfect in so many senses. You are simply the most wonderful sister in the world. Take a Happy Birthday wish from your loving brother – Happy Birthday.
---
It is obvious that you cannot stop having your birthdays and more precisely you can't stop being my lovely sister. Both these things are really good. Wishing you a Happy Birthday.
---
Though I don't talk to you every day but you always remain the deepest core of my heart. Happy Birthday, Sister.
---
Every day, I find new reasons to be ecstatic that you're my sister. I love every little thing about you. Happy birthday, sis.
---
People say that it is possible to choose own friends from many, but it is obvious that you can't choose you're the members of your family. I'm without doubt the luckiest. Happy Birthday.
---
People believe that the heroes are one in many thousands, but I want to say that a sister like you is always one in a lifetime. Happy Birthday.
---
You are the reason for whom my childhood days were so colorful and I had so much fun. Thank you for all those wonderful memories. Happy Birthday, sis.
---
A sister is like a different flower from the same garden – that's why the sun was shining so tenderly on your side. Happy Birthday.
---
Sister, I believe that you are my everything and that I couldn't ask more. I consider myself as the luckiest to find you as my sis. Happy Birthday.
---
Sister, I may not talk to you every day, but you always remain in my thoughts and heart. I celebrate this special day and send you my love. Happy birthday.
---
I want to thank you my sis, for being the most loving and caring sister in this entire world. No one understands me better than you. Wish you a Happy Birthday.
---
Your birthday is more special to me than you, because on this day, I got the most precious gift of my life. Happy Birthday.
Birthday wishes for sister in law
Having a brother that will protect you, play with you and treats you like a princess. But when he marry a nice girl, your luck doubles, because now you have a sister too! Your sister-in-law is your new relative, and hopefully you new best friend, with whom you can share any secret, go for shopping or coffee, have great movie nights and many other wonderful things. Her birthday is a perfect time to show her how much she means for you, or make a few steps to get closer. For this case we've prepared some sister in law birthday quotes!
Family get-togethers are more fun when you are around. I always look forward on catching up with you whether it is the latest fashion or just about anything that we are up too lately. Happy bday, sis! May you a great and fun birthday!
---
Sister in laws are like muffins in a bad day. They make you all warm and fluffy inside, chasing the bad vibes away.
---
I always cherished for a sister which I never had. But God has fulfilled my wish by sending you as my sister-in-law. You gave me the true love of a sister. Thanks is a very small word to show my gratitude. Wish you all the love and peace. Have a wonderful birthday!
---
Wishing you great health so we can have more afternoon teas together; more wealth so you can shop for that shoes you have been eyeing for this past few week; more love because you deserve it; and more blessings in your life, simply because you are such a wonderful person. Wonderful birthday, sis in law!
---
Not only was I blessed with a great husband, but also with an awesome sister-in-law. Life gave me a wonderful package deal! Best birthday!
---
In times of emotional whirlwinds, you are there as my shoulder to cry on. In times of trouble, you are there to back me up. Thank you for not only being my-sister-in law, but also a friend that I can always count on. Happy birthday!
---
I am blessed to have met such a nice and beautiful soul. Best birthday, my dear sister-in-law!
---
The best decision that my brother has ever made is by having you in his life. You guided, tolerated and loved him in spite of all. I will forever grateful for that. Happy birthday to such a lovely person such as you, my sister-in-law!
---
Congratulations dear sister-in-law for successfully completing another year of life! I'm so happy to be able to celebrate your birthday. May you always remain surrounded by your family, friends and loved one in all the situations!
---
Dear little sister-in-law, in you I found a friend and sister. You've become an important piece of my heart. Happy birthday, cutie! Keep in mind that, whenever you need your this friend will always be by your side. May the joy and happiness never abandon you! Love you, dear.
---
Happy birthday, beautiful sister in law! Thanks for all the pleasure and joy you have brought. I wish every day of your life become more beautiful. Have a remarkable day with the people you love the most! Cheers!
Birthday wishes for cousin
Do you remember those days during summer or Christmas holidays, spent with your cousins? Undoubtedly, it was joyful time full of fun and mischiefs. Now it's your cousins's birthday, and it's the right time to show your love and care towards them. If you still don't know what to write in the birthday card, we are here to help! You can also edit this nice happy birthday cousin quotes as necessary.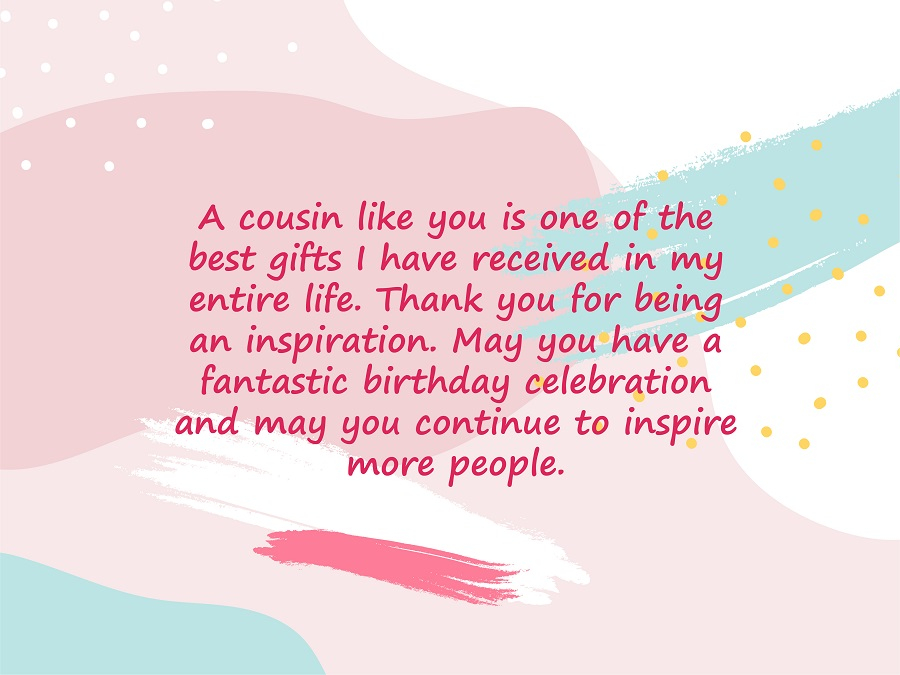 A cousin like you is one of the best gifts I have received in my entire life. Thank you for being an inspiration. May you have a fantastic birthday celebration and may you continue to inspire more people.
---
To my favorite cousin, having you in my life is certainly a source of joy and happiness. Happy Birthday and May all your wishes come true.
---
Cousin, we are definitely a family, cousins tried and true. Best Birthday Cousin. I am so happy I'm related toy YOU.
---
Even if we are only cousins, I want you to know that I consider you as one of my best friends. You are one of my coolest cousins and I wish you a wonderful Birthday!
---
My dear cousin, now that your birthday, I wish that you will continue to grow wiser and I would like to let you know that I am grateful for all the success you have achieved in life.
---
Happy birthday, the most boring cousin! I can't imagine how a person can become so quiet and boring and always hide under books. But sister, I don't know why I love you so much. I pray to God that, He always keep your specialty.
---
Today is the birthday of one of the most important persons in our life. Happy birthday, my cousin sister! I know that God has a wonderful plan for the life of a wonderful person like you. I wish you to have a healthy and prosperous life.
---
You are more than just a blood relative to me—you are a very special friend. So on this very special day of yours, I hope you have a fun-filled day, as well as for the coming ones ahead of you. Happy birthday, my dear cousin!
---
Every time I see you, I am so proud that I am part of our family. You really are a wonderful person and you definitely deserve the best. May you continue to bring light into our lives. Happy birthday!
---
There is something so great about being cousins. We are deeply connected like no other friendship can share. Happy birthday! I wish you more birthdays to come and more fun days ahead.
---
If we weren't related and I had no chances of meeting you, my life would definitely have a sense of emptiness. I am thankful I have you in my life. Never change, unless for the better, because you are already amazing the way you are. Happy birthday!
---
One of the reasons why I love our family is that someone like you is part of it. Happy birthday, dear cousin! May your day be filled with love and happiness, as well as the rest of your life.

Of course your lovely sister deserves the very best! With that in mind, we've prepared very nice birthday gifts for her, that we'll deliver straight to her door. Send her a gorgeous birthday bouquet with a fluffy teddy bear and yummy chocolates. And don't forget a bunch of bright balloons!