23 Beautiful Japanese Flowers: Their Names, Meanings, and Symbolism
18.02.2022
views 35191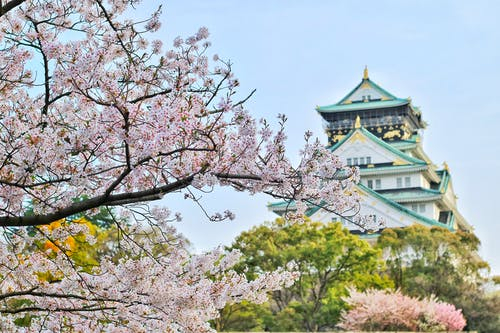 Japan is a mysterious, paradox even, country. Incredible, unrepeatable technological growth and mind-blowing scientific achievements go close with the strict observance of deeply held traditions, centuries-old conservatism. Japan is the land young women still walk down the streets in classic kimono gowns, a parasol in one hand and a Pikachu iPhone in the other. Where businessmen conduct corporate gatherings like religious rituals and then spend all night yelling hard in a karaoke club.
But the greatest mystery behind Japan is its reverential attitude toward its exotic flowers. The importance of blossoms in the land of the rising sun is prominent, phenomenal even. From the admirable cherry blossoms, which are found simply everywhere from cloth prints to manga comics, to the vivid chrysanthemums to be seen on everything from kitchen utensils to fiat money, flower symbolism plays a sacred role in Japanese art, literature, and daily life.
Being a spiritual, nature-caring nation that is also heavily influenced by Buddhist ideology, Japan gives flowers a symbolic, meaningful role and always makes them the focal point of any ceremonies, celebrations, and rituals.
Floral Symbolism in Japan
Hanakotoba is the unique flower language in Japan. It is all about the belief that every bloom carries its own deep meaning, and that meaning is frequently based on the plant's visual characteristics and/or its mentions in historical art or literature. In Japanese culture, each flower, therefore, is often used to express some emotion or sentiment. As important occasions strike, flowers make a great way of communication without saying a word.
Japanese flowers all have interesting meanings, and the authentic art of ikebana is all about arranging blooms in such a way to delight Buddha. To Japanese people, giving flowers is a token of reverence and appreciation. And when you touch these delicate petals, you are reminded of the fact that human life is surely beautiful, yet fleeting, so we should enjoy it while we can.
23 Beautiful Japanese Flowers and Their Meanings
Sakura and chrysanthemums are the national flowers of Japan. These blooms have a unique power to invoke strong emotions and convey what cannot be spoken with words. These blooms are integrated into the Japanese mindset.
Apart from these national symbols, many other marvelous flowers in Japan are heavily loved and gifted to both men and women for a reason or just because.
1. Sakura (Japanese Cherry)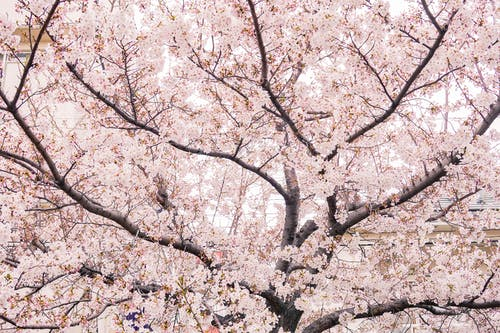 This is the most important flower symbol in Japan. Sakura plays such a huge role in Japan, so there is even a national festival that celebrates the beginning of the spring (Hanami). The bursts of sugar pink are also a symbol of wabi-sabi: the philosophy of finding aesthetical beauty in every aspect of imperfection in nature. Sakura is a symbol of hope and renewal. Since the bloom period of cherry trees is extremely short, the loveliness of the tiny flowers also dignifies the fleeting nature of human life.
2. Kiku (Chrysanthemum)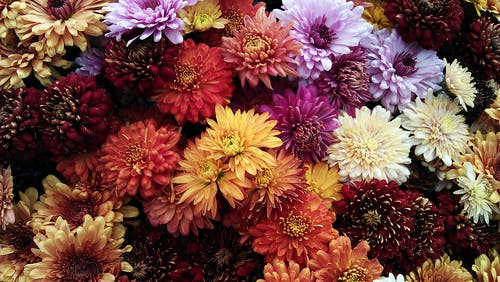 The chrysanthemum is the symbol of the imperial family and is depicted on the Imperial Seal of Japan, government-issued passports, and the 50-yen coin. This beautiful plant also symbolizes longevity and rejuvenation. The Japanese are true Kiku aficionados as they cultivate over 350 varieties of chrysanthemums to adorn their environments.
3. Tsubaki (Camellia)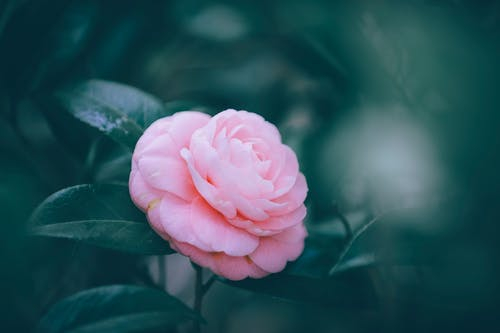 The stunning red camellia traditionally represents a noble death among Japanese military officers and samurais. Curiously enough, this bloom also signifies love. A white camellia represents long anticipation, the yellow flower indicates a strong desire or missing someone, and the red camellia signifies deep appreciation and romance.
4. Shobu (Iris)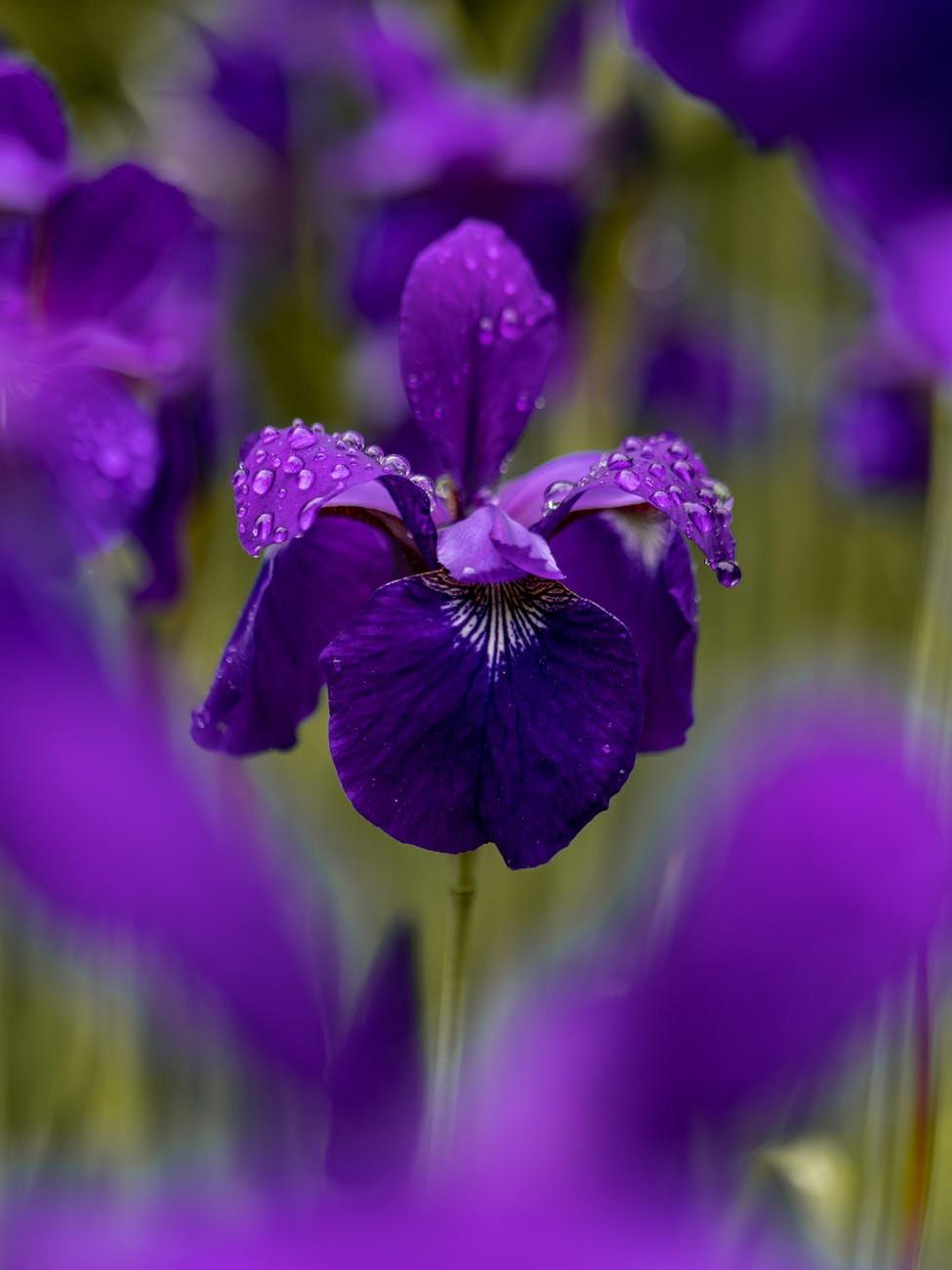 Iris flowers are especially revered in this country. Shobu is associated with many customs and rituals. For example, in the Middle Ages, aristocrat people wore wigs made from iris foliage, and children used bundles of irises as a whip and competed who would hit the loudest. The legendary beverage sake was also produced using the crushed leaves of the iris. The Japanese believe that a necklace with iris leaves protects you against getting cold and cleanses you from sins. Iris is a samurai flower, symbolizing the strength of mind, as well as good news, and gratitude.
5. Higanbana (Red Spider Lily)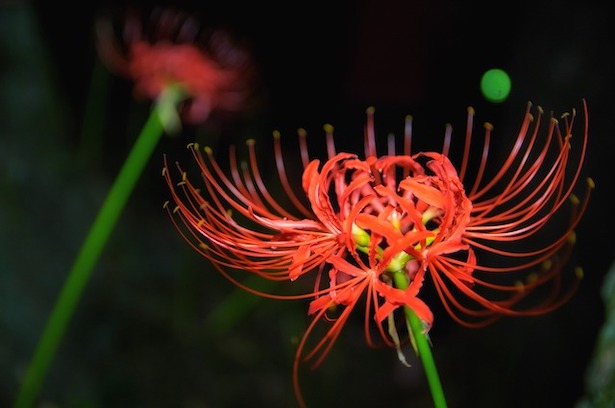 Higanbana is a gorgeous and impressive bright red lily with dramatically curled petals and extended stamens. It is believed to be a flower of death and sadness, with a long tail of myths and lore behind it. The red spider lily signals the last goodbye and, according to legend, these flowers grow people used to live. A big bouquet of such blooms is associated with fire. These brightly colored cuties are native to almost all the Asian Continent and are often used at funeral rituals and memorial services. But they can also be employed for decoration without any negative concept.
6. Japanese Peony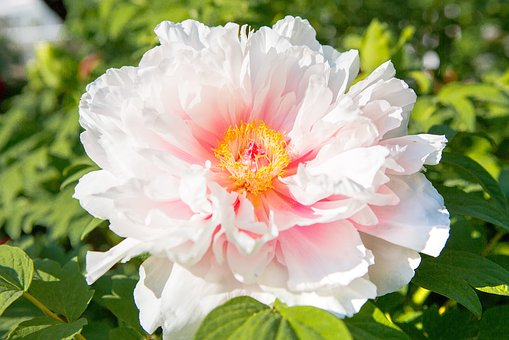 The dramatically showy peony is a famous symbol of bravery and honor. Today, these blooms are used for decorative purposes, for example, to embellish wedding venues to facilitate good fortune, prosperity, and joy for the newlyweds. Unlike many other Japanese flowers, Peony carries no negative meaning. It denotes respect and wealth, so it is a win-win variant for any event.
7. Sumire (Violet)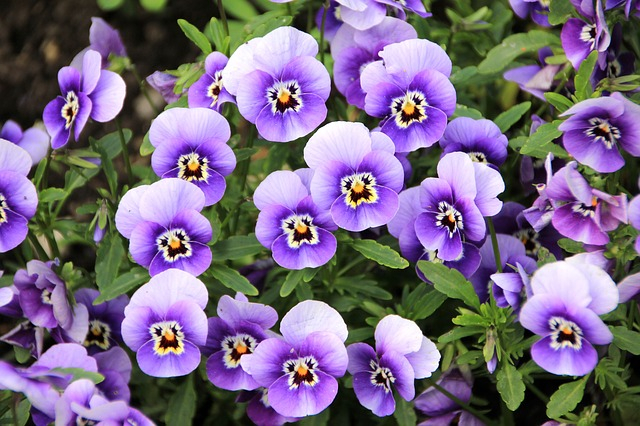 Violets are popular floral staples to be planted along walls and in gardens across the entire country. These wondrous flowers are often picked as a thank-you bouquet or as a gift to declare your love and affection.
8. Hasu (Japanese Lotus)
A lotus flower originates in the depth of muddy water, grows up through the murk, and finally appears at its best to float on the surface. The amazing fragrant flower indicates enlightenment and purity in Japan and is often found in ponds near temples and holy shrines during warm seasons.
9. Ajisai (Hydrangea)
The hydrangea, with its vast range of colors and showy, voluminous clusters of tiny flowers, symbolizes heartfelt emotions, including gratitude and apology. Hydrangea festivals are usually held in Japan up to the middle of summer.
10. Japanese Primrose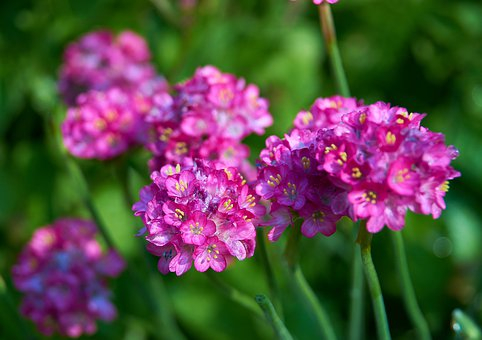 The Japanese primrose is widely known as Sakurasou, and its wondrous deep violet blooms, according to Hanakotoba, have a meaning of eternal love. The flower got its name because of its visual resemblance to Sakura little flowers. The five-petal delicate purple darlings bloom abundantly throughout the spring.
11. Ume (Japanese Apricot)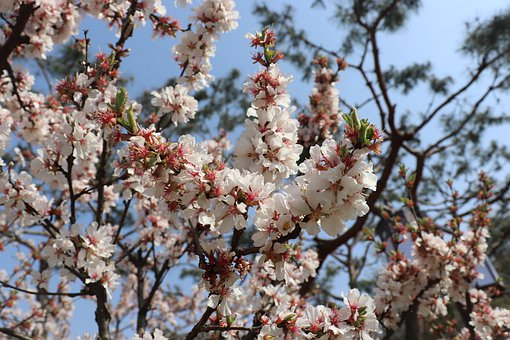 The off-white or tenderly pink blossoms of a Japanese apricot tree are timeless symbols of fidelity, elegance, and heartedness. Similar to Sakura, the fully blooming Ume trees are an object of universal fascination. The sweet honey-floral scent of light pink or white apricot flowers fills the streets with delightful scents.
12. Himawari (Sunflowers)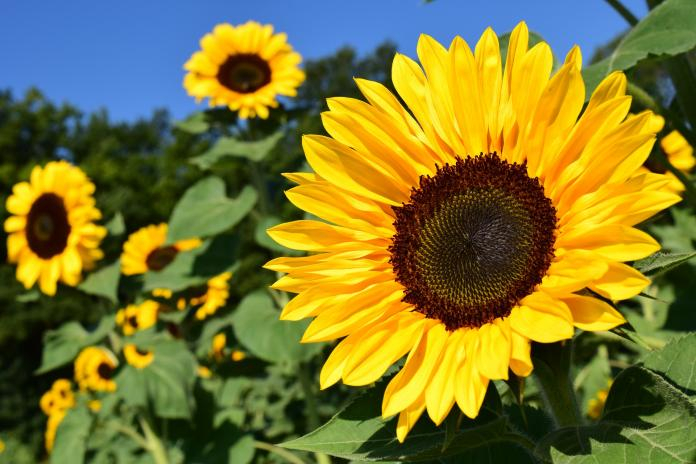 The yellow color in Japan imply to the end of summer, pointing at the life-giving abilities of the elements. It also personifies the concept of focus, confidence, and orderliness. Bright yellow flowers are given to express your best wishes, including luck and prosperity. However, the meaning of sunflowers in Japan will vary depending on the number of stems. Such as, three sunflowers declare your love; seven – you are secretly in love; eleven – your feelings are strong and genuine; a bouquet of one hundred eight sunflowers – will you marry me?
13. Asagao (Morning Glory)
Asagao, or Morning Glory, is one of the most popular garden plants in Japan. It blooms from July to September. Asagao is translated as "face in the morning". This is a metaphor for the face of a lovely girl that looks its most attractive at this time of the day. It is called so because the flower opens up early in the morning. Morning Glory traditionally holds the meaning of unrequited love and obsession in the flower language. In Japan, the flower signifies both innocence and love, making it a traditional gift between lovers.
14. Kaneshon (Carnation)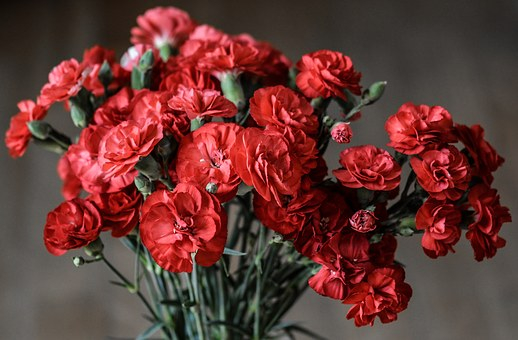 Carnations are a classic symbol of love, not only in Japan but all over the world. These flowers are generally given as a caring gift to close family members, best friends, and special ones. Carnations appear in a variety of lovely colors and can even be repurposed after drying.
15. Kinmokusei (Orange Osmanthus)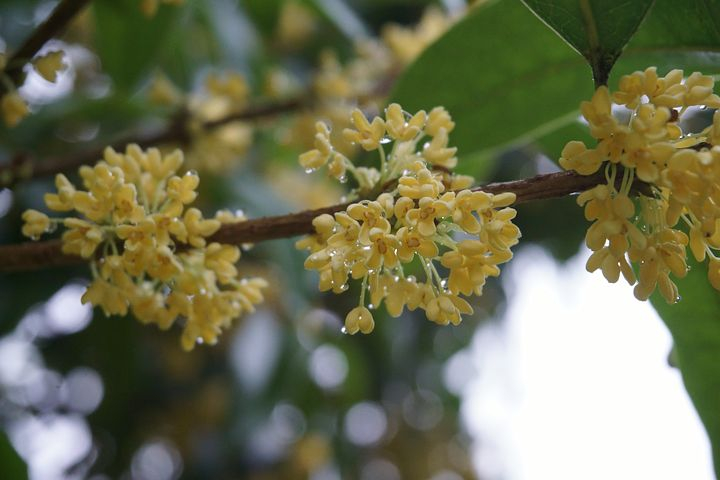 An exceedingly vibrant and bushy flower, the Orange Osmanthus was brought to Japan from China during the Edo period. It features evergreen shrubs, as well as a dark purple fruit drupe full of seeds in a hard shell. The meanings it holds include truth and nobleness.
16. Akaibara (Red Rose)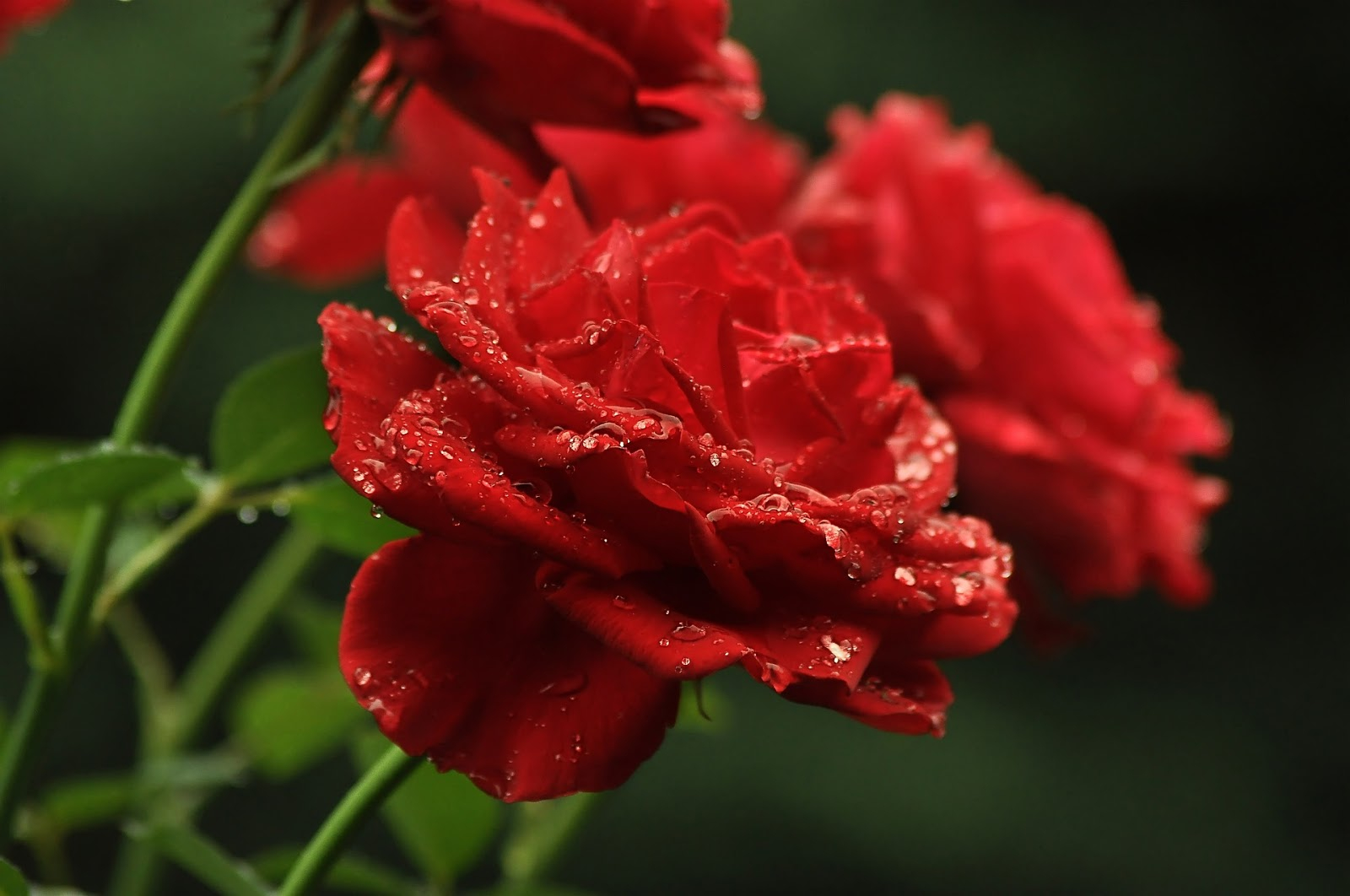 Similar to the Western culture, a red rose—Akaibara—symbolizes love in Hanakotoba, Japan's flower language. Rose bushes are regular dwellers in Japanese gardens, and they are also popular floral gifts when someone wishes to convey their sentiments. Akaibara is a classic signifier of strong love in Japan. Giving someone a red rose arrangement can be interpreted as your love, passion, and strong affection.
17. Akaichurippu (Red Tulip)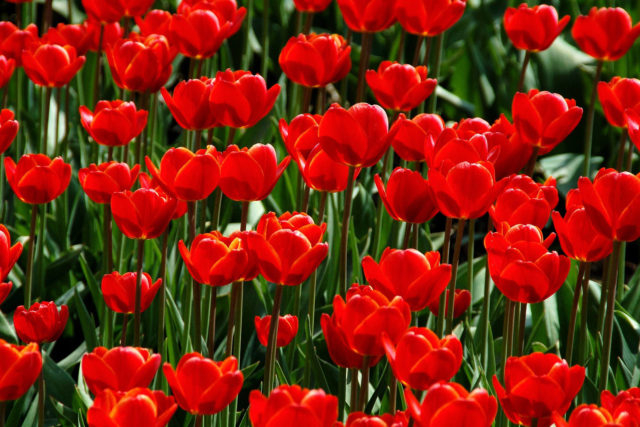 In Hanakotobe, you can express everlasting love with red tulips. Red tulips are also a suitable floral gift to wish someone to become famous and recognized. In many cultures, red tulips are also associated with true love or enduring passion.
18. Rabenda (Lavender)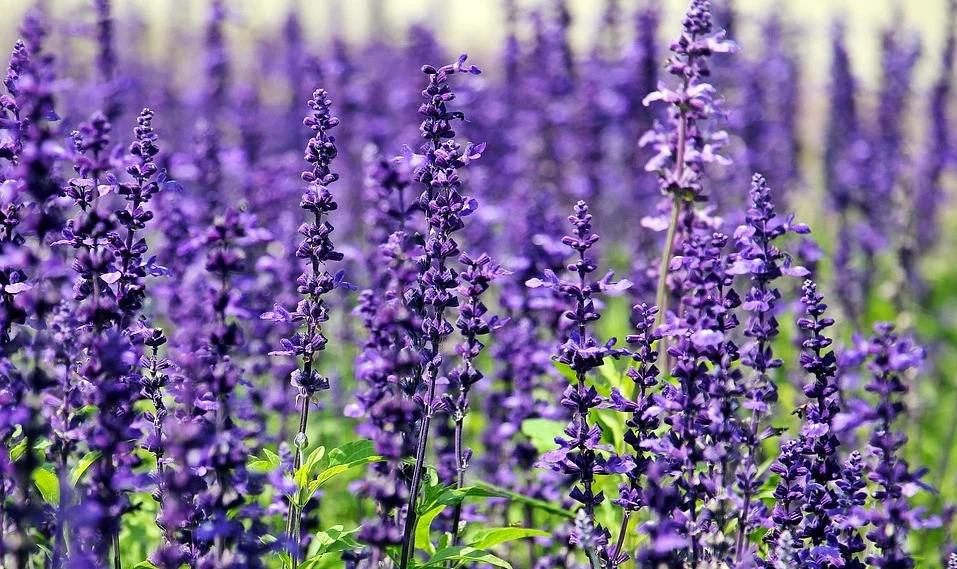 Rabenda symbolizes fidelity in Hanakotoba. Although lavender is associated with the Mediterranean, lavender fields are a popular attraction in Japan during the summer. Hokkaido is the island where lavender is famous in Japan. Purple, yellow, and red lavender fields are a jaw-dropping sight in Japan. Lavender stems are small, hardy shrubs that produce spikes of colorful, fragrant flowers in summer. Lavender is ideal for growing along borders, as ground plantings, in flower beds, and in containers.
19. Momo (Prunus Persica)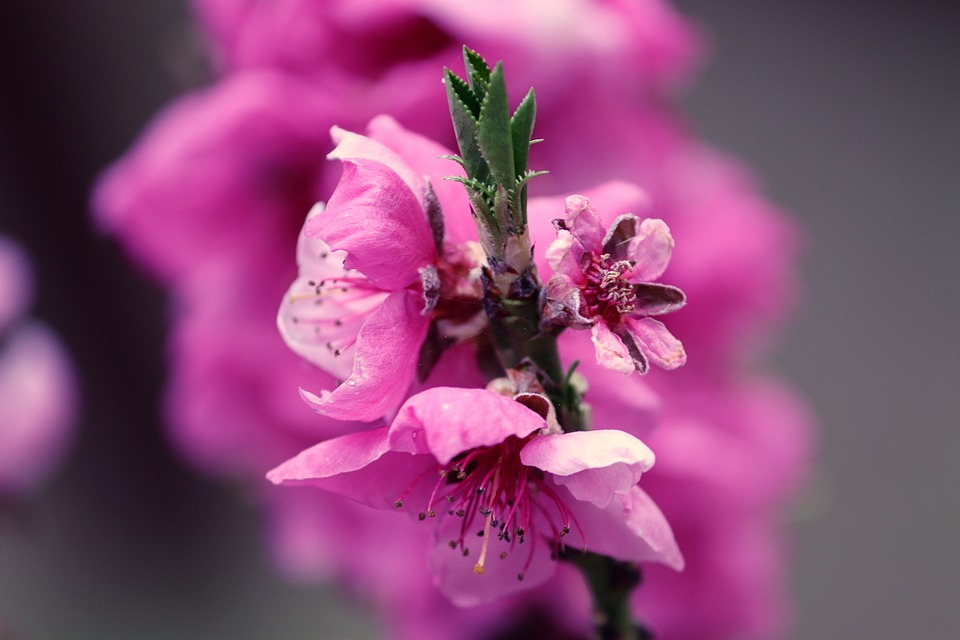 Momo is a flowering peach tree, and its marvelous rosy blooms symbolize a charming personality. Peach blossoms are associated with Hina Matsuri or Girl's Day in Japan and are believed to fend off evil spirits. Ornamental peach trees bloom in late March up to early April. Showy pink flowers have clusters of ruffled petals that generously cover the tree in spring. Ornamental Momo trees are valued for their beautiful flowers because their small fruits are not suitable as food.
20. Kosumosu (Cosmos)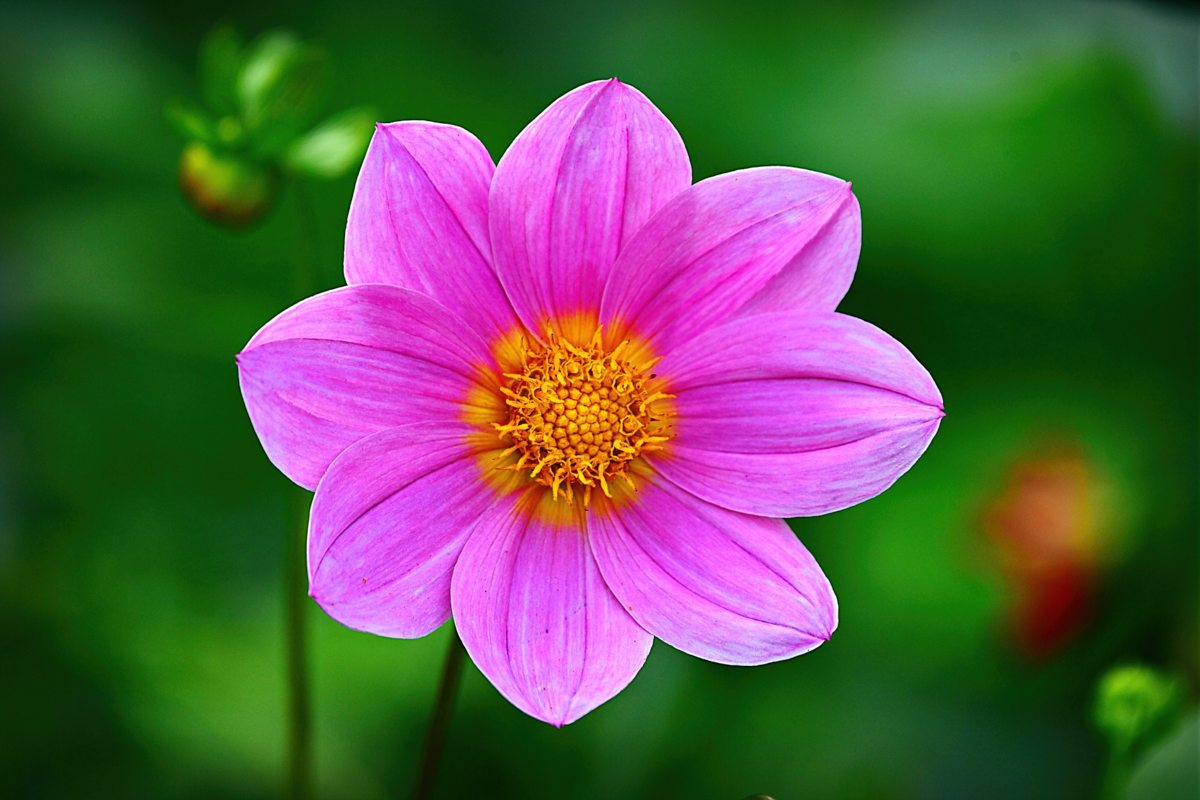 Kosumosu is a hugely loved flower in Japan, symbolizing love and purity in Hanakotobe. Delicate daisy-shaped flowers sit at the ends of slender stems that grow up to 6 feet (1.8 m) tall. Kosumosu is a hardy annual that can grow in zones 2 to 11. Flowers bloom all summer up to the autumn. This flower was introduced to Japan during the Edo period. The appearance of the flower resembles Sakura, so it is even written like the "Autumn Sakura" in Japanese hieroglyphs.
21. Suisen (Daffodil)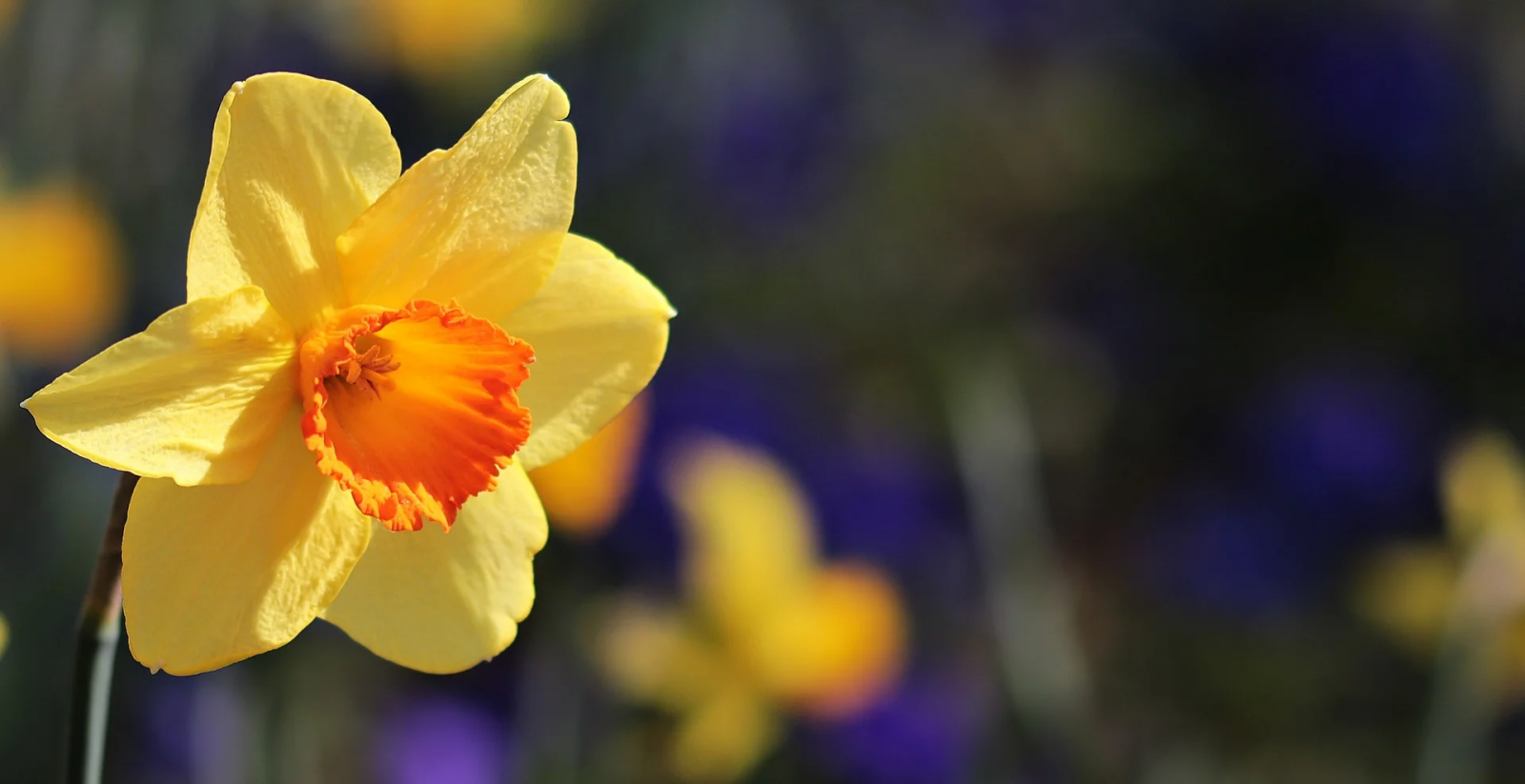 Daffodils naturally appear in Europe and North Africa. They were introduced to Japan over 700 years ago and now grow wild across the country. Daffodils bloom from late December to February in this land. They are traditionally given to teachers, respected relatives, and celebrities. In the language of flowers, daffodils stand for respect and great tribute. But they also have other meanings. For instance, this flower is also a symbol of truth, reincarnation, and forgiveness in Japan.
22. Fuji (Wisteria)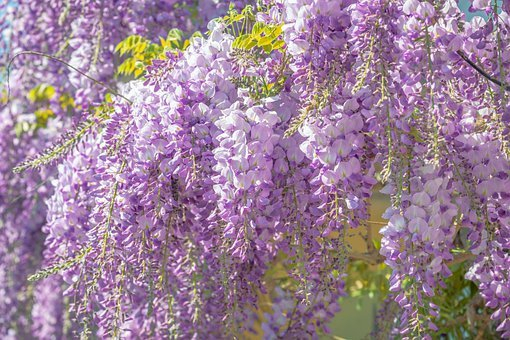 The Japanese name Fuji is a genus of deciduous vines. Wisteria lianas can climb up to twenty meters, wrapping around a supporting tree or artificial support. Wisteria bears blossom in spring and during the first half of summer (depending on the species). Inflorescences of aromatic flowers of purple, white, pink, or blue color can reach 1 meter in length. Nowadays, wisteria is often used in landscape design. In the past, wisteria lianas were the attributes of the ruling dynasty and royal people, as ordinary people were not allowed to wear purple. In Japan, wisteria is a symbol of fragility, refinement, tenderness, and purity.
23. Suitopi (Sweet Pea)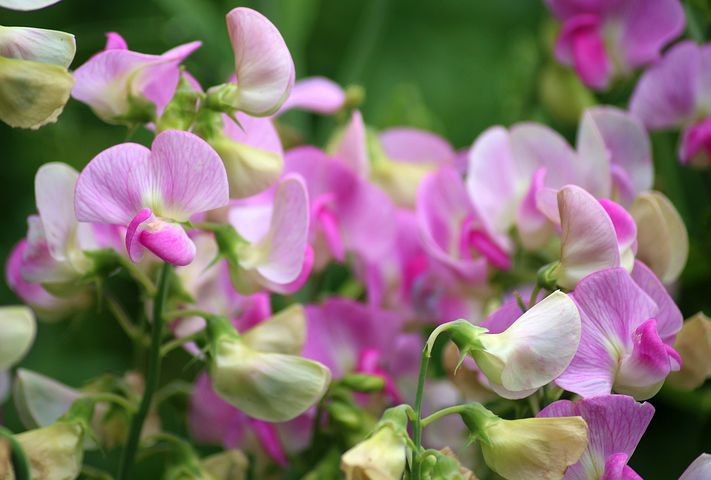 Sweet pea flowers naturally grow in Italy and came to Japan only in the 20th century. Suitopi in the Japanese language of flowers means goodbye. But the sweet pea has shed this significance for the most part and is now a popular pick as a floral gift for a variety of occasions.
Common Japanese Flowers Questions
If you still have some uncertainties about Japanese flowers, these FAQs will help you find the right answers.
What are the most popular flowers in Japan?
The Japanese cherry tree aka Sakura is the national flower of Japan and the most popular flower in the country. These blossoms can be admired in the spring, and there is even a grandiose cherry blossom festival at this time, which takes place in cherry blossom gardens all over the country.
Is Sakura Only Found In Japan?
Although Sakura blossoms are closely associated with Japan and most of them grow there, cherry blossoms can be found in other regions of the world including Washington DC, New York, and Georgia.
When Does Sakura Bloom In Japan?
The period from March to April is the best timeframe to visit Japan to behold the wonderful cherry blossoms. Toward the end of the season, the flowers begin to fall, creating a cherry blossom snowfall – a spectacular performance that is a must-see.