Birthday wishes for lover
18.02.2021
views 34160
Who has never struggled to find the right words to convey their most beautiful feelings toward a special someone? We all know that sometimes a simple "Happy Birthday, I love you to the moon and back" is not enough. This beautiful moment of celebration is meant to be very special and memorable, but when it comes to writing a birthday card, we often suffer from a lack of inspiration. But don't worry! We are happy to offer you beautiful examples of romantic birthday wishes and quotes for your lover! And of course, any words sound better in accompaniment of beautiful birthday flowers.
Birthday wishes for girlfriends
Every girl loves surprises, especially if it's something romantic in honor of her birthday. Even a small gift such as flowers, together with the right words, can make a lasting impression and make her feel like she's on top of the world. On this special day, it is particularly important to surround her with your love and attention. We are here to help you find the perfect birthday wish to show her how special she is to you. So, don't be afraid to be too tender; tell her how beautiful your love is inside and out, how she inspires you every day, and what you admire most in her.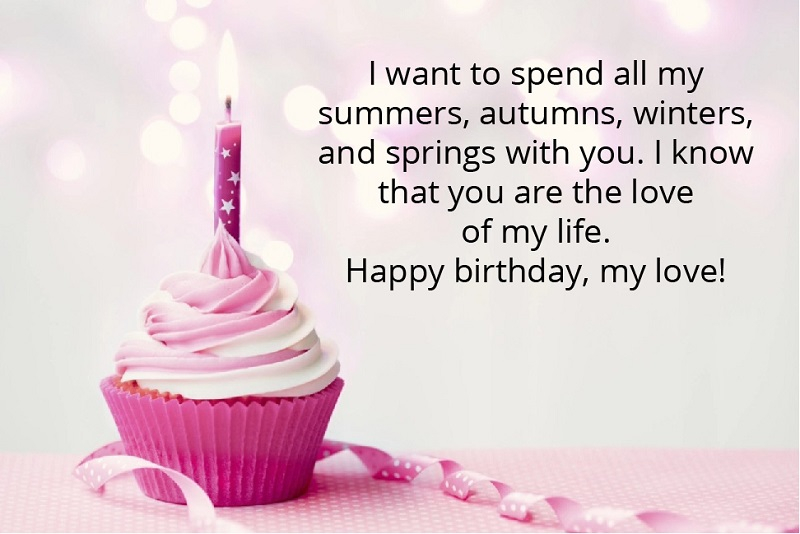 I want to spend all my summers, autumns, winters, and springs with you. I know that you are the love of my life. Happy birthday, my love!
---
You are my strength and support, sweetie. I need you every minute of my life. I'm very happy to have the opportunity to know and love you. You are everything for me. Happy birthday to my wonderful girlfriend!
---
My love for you is limitless and endless because you are a wonderful woman. I adore every inch of you, and I hope our perfect time will never end. Happy birthday, dear!
---
Happy birthday to the most amazing girlfriend ever! You are all the best things in my life, and I can't imagine it without you. Sending you my love and the sweetest wishes. Love you, babe. Congratulations!
---
Every day with you is like a celebration, but today is your special day, dear. I hope all your dreams will come true and make you the happiest girl on Earth all next year. I'm always with you. Happy birthday, sweetheart!
---
May this day be the sweetest day, darling, because you are worth the sweetest birthday cake! I'm so happy today is your birthday. I love you and I'm ready to celebrate your grand day together! Ask me for anything. Love you, babe. Happy birthday!
---
Darling, thank you for bringing joy and happiness into my life. You are a wonderful girlfriend, and everyone else can only envy my joy. You have a fantastic sense of humor, and all of your jokes are amazing. Here's wishing that you're always so happy and crazy, girl. Happy birthday!
---
Happy birthday to my incomparable girlfriend who makes me feel like the luckiest guy in the world. Hope your day is filled with all the special things that life can offer you. You are SPECIAL, dear. Love and kisses. Congrats!
---
Happy birthday, my sweetheart. On this beautiful day, I need to kiss you, to hug you, and to say "I love you" like never before. I promise, today you'll be my Princess. Love you to the moon and back and more. Congratulations!
---
The universe may turn upside down, but you will always be the prettiest girl in town. Happy birthday, my love.
---
My passion for you will never fade. You will always be my one and only. May this birthday bring you everlasting joy! Happy birthday!
---
Happy birthday to you, my dream girl. I hope today offers you lots of fun and brings you great joy!
---
I have the most precious thing that life can offer. I have you, the most beautiful and lovable girl in the world. Happy birthday!
Birthday wishes for boyfriends
This is probably one of the most important days of the year for your man. And, of course, he expects something special from you—not only a gift, but also an intimate birthday wish that will show how much you love and value him. Heartfelt words are not reserved only for women. Who wouldn't be happy to receive a message full of affection from a loved one? In order for this moment to be truly memorable, it is best to complement your gift with small, tender words to make your man melt like rich chocolate ice cream. Without further ado, discover our ideas for tender messages to wish a Happy Birthday to your boyfriend.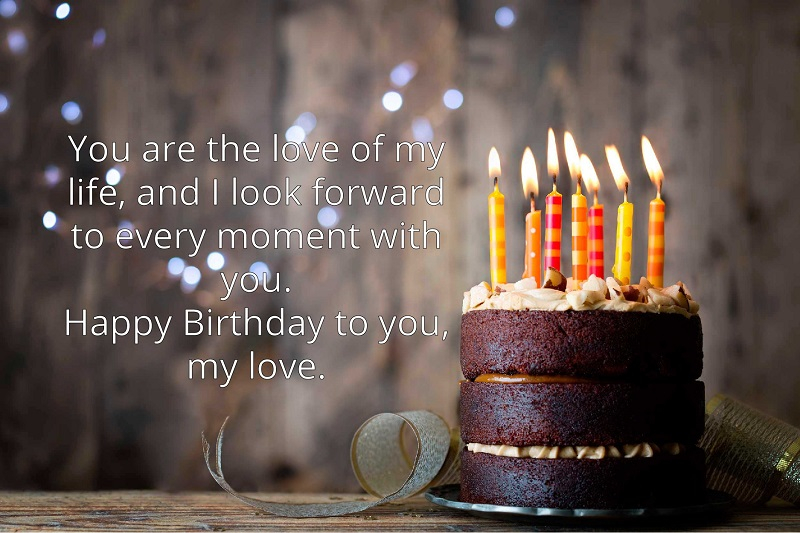 Happy bday to the hottest and most cheerful man on the planet! May your day be extremely fun and exciting!
---
The most loving birthday wishes to my amazing boyfriend, who is always there for me, who listens to me and calms me. Love you endlessly, dear.
---
Happy birthday to the cutest boyfriend ever! I fell in love from the first moment I saw you, because you were different, and Iwish for you to have a different birthday, too. You are AMAZING! Congrats!
---
Today I'm extra happy for you, babe. It's your birthday, and I want to make this day crazy. All my love and smiles are for you. Happy birthday, love!
---
You are the reason I smile, so I want to make sure you have a fantastic birthday. I want to see you the happiest, babe. Love you. Happy birthday! I hope you have a wonderful day!
---
Happy birthday, my love, you're my hero. Love you lots.
---
Happy birthday, sweetheart. I love you now and forever, baby. Enjoy your day.
---
Happy birthday, honey, wishing you many years of greatness. Love you, my heart's desire.
---
You are the love of my life, and I look forward to every moment with you. Happy Birthday to you, my love. Sending hugs and kisses.
---
To my dear boyfriend on his birthday, I hope this turns out to be the best birthday ever. Have a wonderful year to come. I love you so much.
---
We are two hearts, once lost and wandering, but we have found our way back to each other. Home is wherever you are, and I am so grateful for every moment with you. Happy birthday, King of my heart.
Happy birthday love quotes
It is great when your lover is not only your soulmate, but also your best friend, with whom you always enjoy spending time. If nature has given you both a good sense of humor, and you like to laugh at each other in a good-natured, bantering way, cute and funny birthday wishes and some flowers will definitely put a smile on your loved one's face!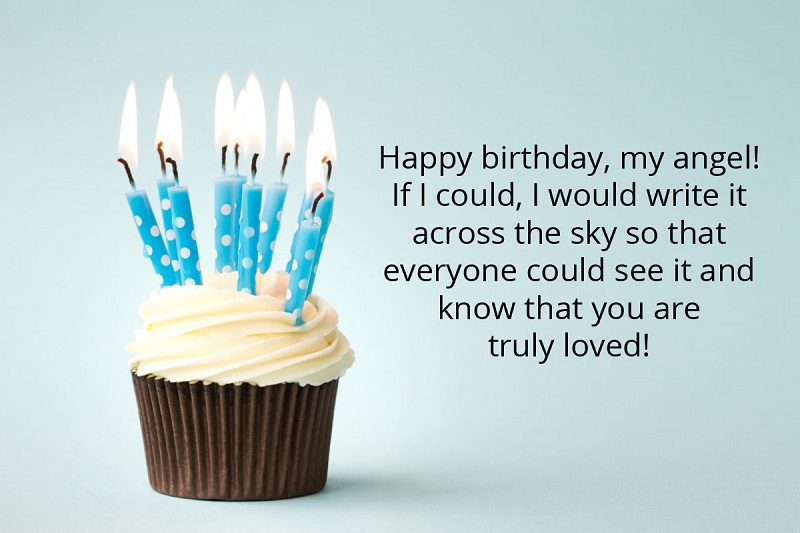 I have never met a person as sweet as you in my whole life. Let's celebrate your sweetness and your birthday by eating sweet cake and drinking sweet wine!
---
One tree can start a forest, one smile can make a friend, one touch can show us love and care, and you make my life worth living, dear!
I hope that your birthday is beautiful, wonderful, and full of love…just like you! Celebrate! You deserve the best.
---
Happy birthday, my angel! If I could, I would write it across the sky so that everyone could see it and know that you are truly loved!
---
Darling, you are a wonderful bloom in a beautiful garden where only true love grows! Wishing you a brilliant birthday!
---
This message has no fat, no cholesterol, and no additives. This is all natural, but it comes with a lot of honey, even though it can never be as sweet as the one reading it! Happy Birthday, sweetheart
---
Dance as though no one is watching. Love as though you've never loved before. Sing as though no one can hear you, and live as though heaven is on earth! I wish you a very warm and happy birthday!
---
Of all the stars that you see at night, I'd name one star after you. And that's my birthday gift to you that can never be erased from this world. With lots of love, your —
---
I wish I could attach my heart to this birthday wish. That's how much you mean to me. I wish for you always be happy, and I'll do everything in my power to make you so.
---
Blow out your candles, make a wish, and I will give you a big, sweet kiss!
---
Did you feel a light tap on your shoulder at midnight? It wasn't Santa Claus; it was me wishing you a very happy birthday!
---
May every path be smooth for you. May every corner bring you happy surprises. May every day put a smile on your face. May every friend bring you peace and joy. May you get everything you've ever wished for. And may you never forget me! Warm wishes for a happy birthday !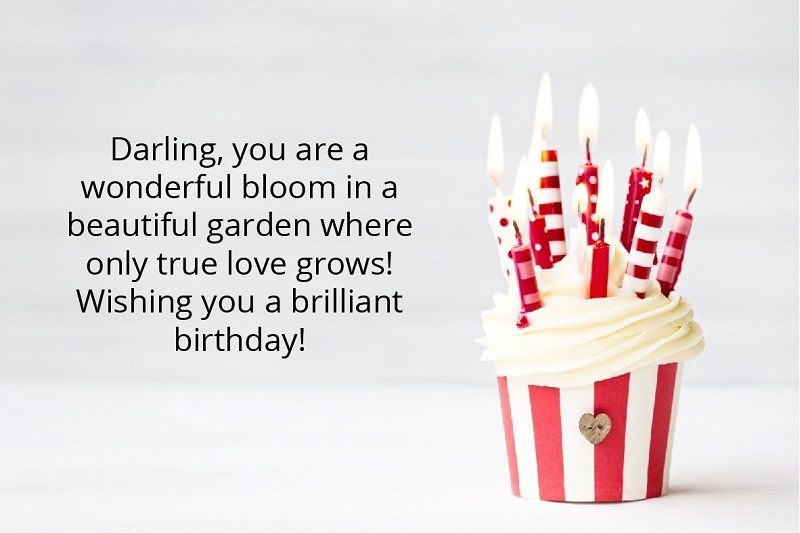 Romantic birthday wishes
Is a person very dear to you having a birthday soon, and you want to write a nice romantic birthday text or love message? When your love story is so beautiful, you can't skip a romantic birthday text with heartfelt and sincere wishes for your beloved one. But don't worry if you are not a professional writer or a poet. Look no further! We are happy to offer you some amazing ideas to help you write a perfect romantic birthday message that you can put on a birthday card to make your special someone feel deeply loved on such an important day.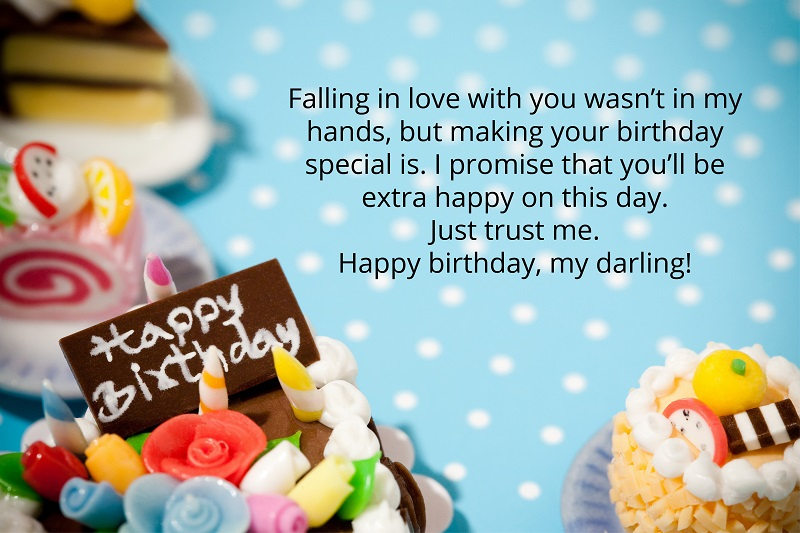 Happy birthday to the most amazing person in my life! You make me feel so lucky in love, dear.
---
Honey, you are the sweetest thing in my life, and I'm super happy for this gift. On your birthday, I also want to give you a gift, but you'll have to wait until this evening to see it. Happy birthday, my love!
---
Falling in love with you wasn't in my hands, but making your birthday special is. I promise that you'll be extra happy on this day. Just trust me. Happy birthday, my darling!
---
Every day of my life has been different since the day we met each other. Thank you for all of the spontaneous decisions and crazy ideas. Wishing you the craziest b-day, too. I love you, my man. Have a perfect day!
---
I only feel utter happiness when I'm with you. May the true happiness you bring me forever follow you. Happy birthday!
---
Babe, on your birthday, my prayer for you is that you will be blessed with a life that is as sweet as your kisses and as beautiful as you. Happy birthday.
---
The day I stop loving you is the day the rivers make the sea overflow. Happy birthday, my love!
---
I love you so much more today than yesterday, but not even one-tenth of what I'll feel tomorrow. Happy birthday, my love!
---
Happy birthday, lover. You cannot imagine how happy I am that we can spend your special day together. Let me show you!
---
For me, there's nothing better than sharing this special day with my favorite person: you. Happy birthday, my love!
---
Your birthday is the only day of the year I enjoy as much as mine. That's because I love you more than I love myself. Happy birthday, my precious love.
---
Happy birthday, my dearest! Today, there's no greater love than mine for you. Tomorrow, this will no longer be true. Then, I will love you even more!
---
Happy birthday, darling! Our love is reckless and stupid—just the way I like it.
Once you pick a perfect wish for your sweetheart, it's time to prepare a thoughtful gift that will convey your most beautiful feelings! Surprise your lover with something special from our romantic collection of birthday flowers, and don't forget to add a nice touch with a sweet gift and a plush toy.