Roses color meaning
09.12.2022
views 10963
Valeriya Sverkunova
No matter how diverse the world of flowers is, the rose takes first place in demand in the floristic market. Moreover, rose is also the first flower that comes to mind when it comes to flowers.
Throughout the existence of the rose, as an element of a bouquet and as an object that is handed out on special occasions, the language of flowers has been formed. As a rule, roses are the choice of confident people who value comfort and know the value of things. They choose a rose because it can tell a lot, in particular about the feelings of the giver.

The language of flowers
The language of flowers, like many inexplicable but beautiful things, takes its start from the East, where it was very popular. Bored women who lived within the harem were looking for ways to convey information and found it in flower arrangements, giving meanings to color and quantity.
Already in the 18th century, thanks to Charles II, who visited Persia and was so fascinated by this language, the language of flowers spread throughout Europe. After his return, Charles II introduced the language of flowers into everyday life and even created the first special dictionary, which explained the meaning of flowers, their quantity, and even how to place a bouquet correctly so that it would express a person's feelings. Similar dictionaries began to be created throughout Europe and were especially popular among French court ladies.
Only echoes of such distant times have survived to this day. The meaning of color changed based on its modernity and the traditions of any people, but some postulates remained unchanged. We want to share with you what roses can say and help you make the right choice.


Color Meaning
Red Rose

A bouquet of red roses is the most common bouquet among roses and among other flowers in general. They are given as a sign of admiration and respect. Red roses symbolize passionate, deep love, the intention of desire. It is red roses that have the strongest, most languid aroma, which distinguishes the queen of roses from roses of other colors. They are a symbol of the true attraction that a man feels for a woman.
A person who gives a bouquet of red roses or roses with white petals framed in red edging, implies harmonious love and long friendship. It is customary to give red, scarlet, burgundy roses on February 14, declaring one's feelings and passions.



White Rose

White is a symbol of purity, innocence and chastity. And the white rose carries the same meanings. The legend of this flower goes into religion. It says that the Archangel Gabriel made three wreaths for the Most Holy Theotokos from red, white and yellow roses. Red meant suffering, yellow meant glory, and white meant joy.
If the donor wants to express his feelings and declare the perfection of his chosen one, then white roses are ideal for him. They are a symbol of strong and pure love. That is why it is customary to give white roses for a wedding.
Also, white roses are suitable for absolutely any occasion of life, as they express sincerity
Pink Rose
Pink is the color of love. Pink roses are a symbol of thebeginning of something new, light and strong. Also, this flower is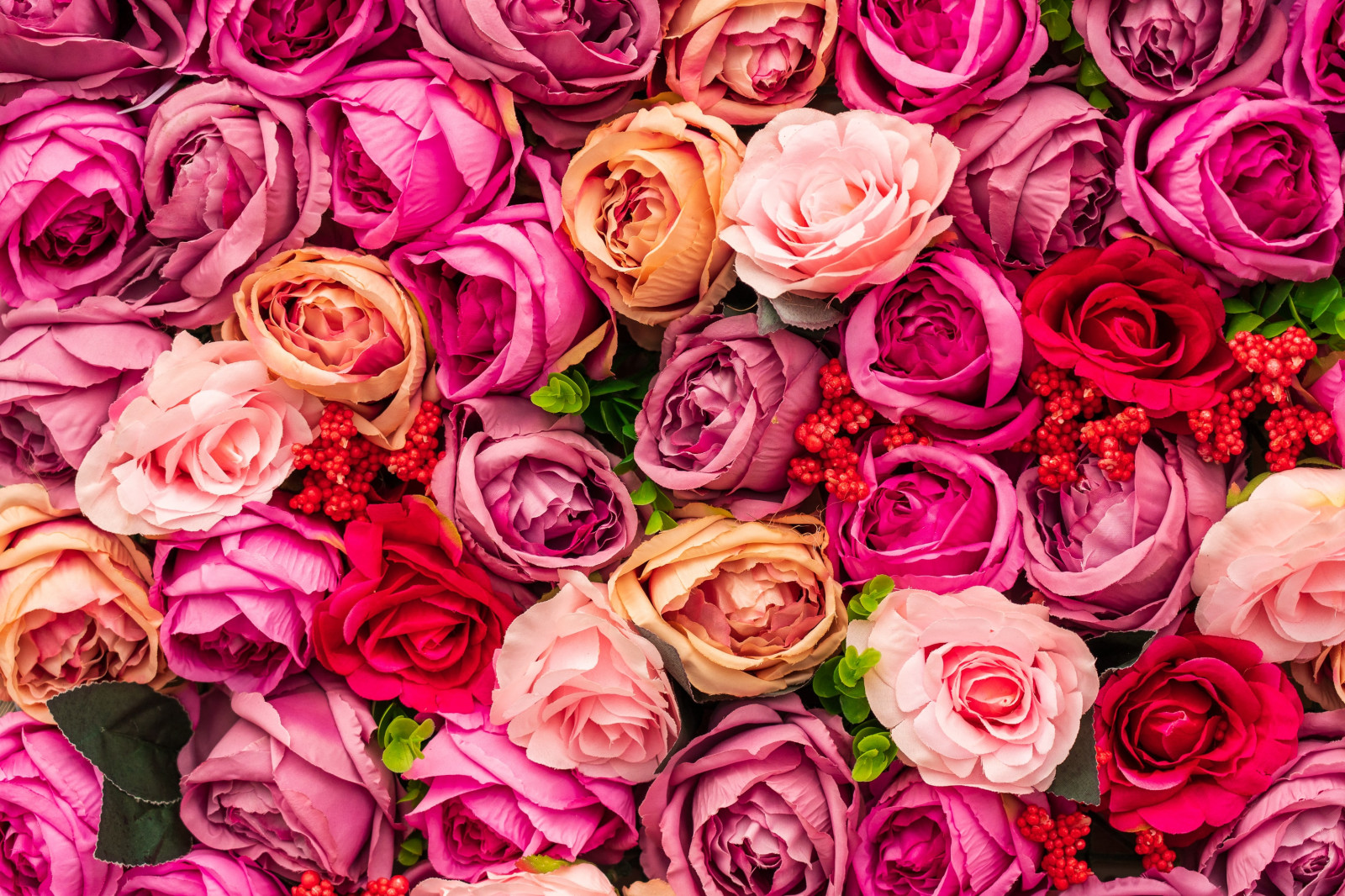 associated with courtesy, elegance, courtesy and politeness. A person with a bouquet of pink roses shows his sympathy, tender feelings, his noble intentions and admiration.
To express your sympathy, you should choose roses of soft pink color, and to express gratitude - rich pink color.

Yellow Rose
Yellow rose has the most positive connotations! It symbolizes joy, happiness and friendship.
She is often decorated with any celebrations or presented to the hero of the holiday, because in this way she is credited with a freedom-loving and active beginning.
At the beginning of a relationship between two lovers, yellow roses express respect, admiration. But in a long relationship, they express the regularity and sweetness of family life.
Also, yellow roses are given as a sign of reconciliation, with the intention of leaving past quarrels and grievances.

Orange Rose
Orange roses will not only be a wonderful decoration for the holiday, but also express pride and charm. This color expresses the joy of meeting. They symbolize enthusiasm and passionate feelings. With orange roses, you can declare that you are drunk with love for your subject.
But the delicate color peach expresses modesty.

Green Rose
Green color has always meant abundance, generosity, nature, fertility. Green rose is a relatively new phenomenon in the floristic market.
Green roses are in sight of successful and prosperous people. These flowers do not express their love, but they can declare jealousy.
Blue Rose
The demand for blue roses is growing every year and this is not surprising. Their unusual appearance and beckons to itself. The giver presents blue roses, speaking of the mystery and inaccessibility of their future owner. After all, the flower itself is mysterious and extraordinary. More saturated shades speak of first love, admiration and charm.
Black Rose
This color is associated with death, and black roses also symbolize death. But not only, they also symbolize protest. In the old days, the rebels used them as a tool for open rebellion to carry out actions of defiance. Writers in high positions should beware of this color like black marks.
But black roses have another connotation. They can express spiritual rebirth and new beginnings, moreover, if a person gives black roses to someone then this is a strong personality and the donor expresses his admiration.

Expressing one's feelings with the help of various roses, as a rule, goes on an intuitive level. But now you can accurately express your intentions and express those words that you cannot utter. But do not forget that if the object of your attention prefers a particular color, then you should not focus too much on the semantics of the color and give something that will please your object of attention.