Sending flowers for men: how to get it right
17.02.2021
views 6186
Nowdays due to the equality and the political correctness it's acceptable to give flowers to men too, also they've becoming a much more popular gift option. But finding the perfect men's bouquet can be an intimidating task, because the choice is wide and you have to keep in mind all the modern rules and requirements. And that's where we can help you to find an ideal bouquet, perfectly suited for every occasion.
Trust us: for every man there is a flower!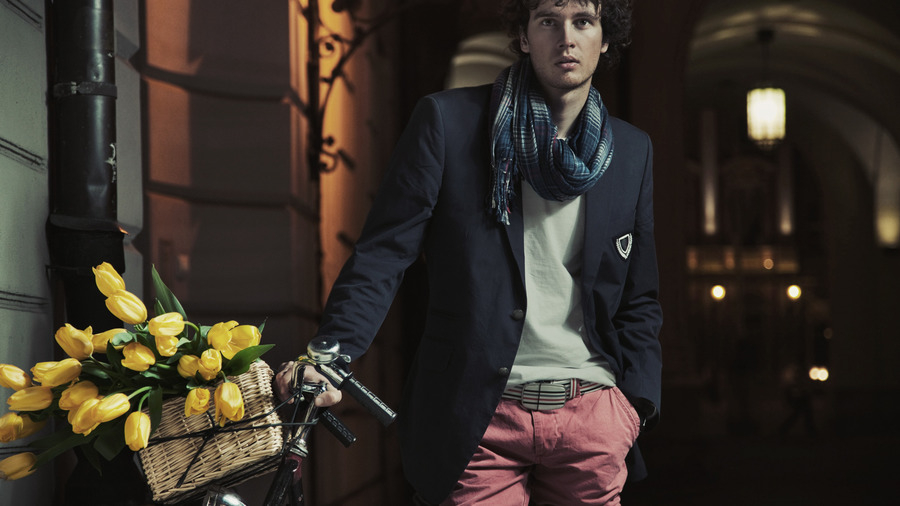 Occasions to present masculine flower arrangements
When you choose a bouquet for your male family members, boyfriends, husbands and close friends, flower etiquette is not so important. For them a bouquet of flowers is a manifestation of your love and gratitude. It's also good to send manly flowers to your relatives on special holidays such as Father's day or birthdays.
If you are looking for a bouquet for men like colleagues, bosses, business partners and good acquaintances, you should strictly follow the rules of etiquette. Flowers for men of this category are appropriate only for solemn events and official occasion. Giving them flowers without reason is considered indecent. Due to the flower etiquette rules you can give bouquet to a man:
To express your best wishes on his birthday or jubilee;

To declare your sincere feelings and love;

To congratulate your colleague or boss with a promotion;

For a retirement party.
Etiquette of giving manly flowers
Surely receiving a bouquet of flowers is always a pleasant surprise, but there are some rules for official occasions and business gifting:
A woman should not give a flower bouquet to a man who is much younger than herself;

If possible, specify the tastes and preferences, as well as allergies;

A bouquet for men should be in bold and bright colors;

Flowers are presented with the left hand, while the right hand is free for a handshake or for an etiquette kiss;

Men's bouquet should not be fragrant;

Masculine flower arrangement should not have any decorations;

Manly bouquet should not be small or round-shaped;

A bouquet shouldn't contain any sharp or messy elements.
Manly bouquet shapes and colors
Flower arrangements for him should be pyramid-shaped or triangular, with long sterns and strict clean lines. Blooms have to be big and bold, and the composition should remind upward-looking arrow as a symbol of power and men's strength. Choose bouquets with geometric-shaped greenery, such as fern leaves, asparagus, monstera and bamboo. Preferably avoid fluffy and cascading arrangements.
⸲⸲ A bouquet for a guy shouldn't involve lace elements, sequins, decorative bows or beads. Flowers can be tied with an eco-style braid or jute, but never with the satin. Flowers in boxes or baskets are appropriate only as a gift for a jubilee or on the official awarding.
Choose a «masculine» monochromatic palette: classic male bouquet contains one type of flowers in a single color scheme. Although today florists make male bouquets of different colors, even contrasting. Actually, colors depend on the man's age and temper. Soft and discreet shades suits older people better, when bright colors are always good for the young gentlemen. Phlegmatic person will find perfect harmony in calm (but not pastel!) colors, and the choleric — in a combination of contrasting shades. Colors should be bold and saturated: red, purple, orange, white, burgundy, blue. But we suggest to avoid sharp color transitions or excessive diversity.
If you are not sure what to choose — give your preference to a dark-colored bouquet, it is always the best solution.
Masculine flowers for different occasions
Manly flowers symbolize striving for success, reliability and confidence. Even their shape and appearance should emphasize masculinity and dignity. Small blooms and blossom clusters won't fit masculine bouquet. Also it shouldn't be fragrant or contain any wildflowers (such as daisies, chamomiles, crocuses etc.). Let's find the perfect flowers for every occasion:
Flowers for man's birthday

— bold

gerberas and roses

are best flowers to congratulate a man on his birthday. If you need flowers for a jubilee, chose bouquet of precious

orchids

as a symbol of luxury, wealth and elegance, and also to emphasize the charisma of the hero of the day.

Flowers for colleague

—

lily callas

and

exotic plants

are perfect for boss bouquet as a sign of recognition and respect.

Irises

are acknowledged masculine flowers that embodies respect and appreciation.

Flowers for boyfriend

— this is the only type of masculine bouquet that can have a token of tenderness since it's a romantic one. Passionate

roses

and beautiful manly

irises

will express your feelings better than any words.

Father's day flowers

— tropical flowers like

orchids

are one of the most popular to send to dad.

White

or

lilac lilies are traditional flowers for the holiday. Also a bouquet in white and blue shades

or a bunch of freshly cut

sunflowers

is always a great choice!

Retirement flowers

— such bouquets can be really luxurious and include

white

,

red

or

yellow roses

,

chrysanthemums

,

gerberas

and

dahlias

.
Whether you need a romantic bouquet, want to send your congratulations or express respect and gratitude — flowers are always the ideal choice. Find the perfect manly bouquets at our catalogue